Germany's Economy Suffers A Major Setback
The German economy saw a severe setback in the first quarter, shrinking by 1.7% QoQ. A growth engine in the final quarter, the economy has become a drag on the entire eurozone. But not for too long.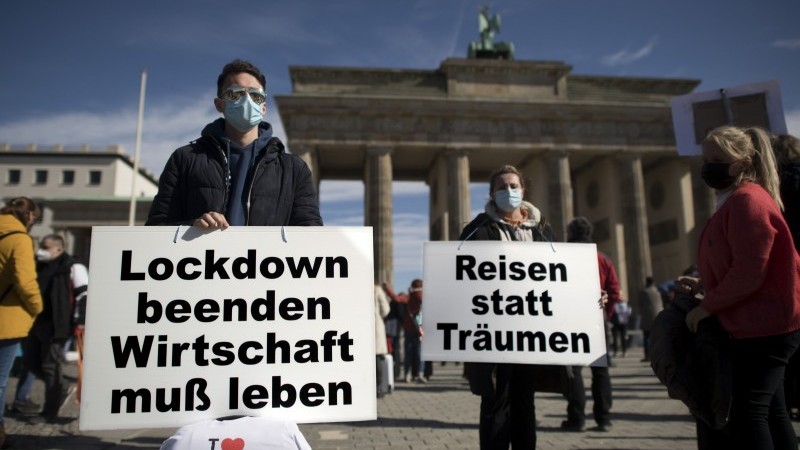 Anti-lockdown protestors in Berlin last month
Double dip it is. According to the just-released flash estimate, the German economy shrank by 1.7% quarter-on-quarter at the start of the year. In the final quarter of 2020, the economy had still defied stricter lockdowns, growing by 0.5% QoQ. On the year, Germany's economy was down by 3%. While the country was a positive growth driver for the entire eurozone economy at the end of last year, it has now turned into a drag factor.
A strong rebound is on the cards
The GDP components will only be released in the coming months but judging from available monthly data the growth drivers of the fourth quarter turned into dragging factors in the first three months of the year: industrial production and the construction sector. The reversal of a VAT reduction and stricter lockdown measures are likely to have dented private consumption.
In fact, the German economy clearly has many, very different, faces right now. Not all of them are properly reflected in today's numbers The major theme is one of a continuing and partly growing divergence between the service sector and the manufacturing sector. Strong demand from the US and China has filled order books in manufacturing and driven strong momentum in industrial production - even if production is still below pre-crisis levels.
Technical factors such as the reversal of stockpiling ahead of Brexit at the end of last year, the impact of the harsh winter weather on the construction sector, and supply chain disruptions have in our view significantly blurred German GDP data in the first quarter.
In any case, looking beyond possibly more short-term data distortions like the impact from the blockage of the Suez canal and ongoing supply chain disruptions, the general outlook for the German economy has clearly improved. The vaccination programme is finally getting moving and with the prospect of at least 50% of the adult population having had a first jab before the summer, a more substantial reopening of the economy should not be too far away.
Disclaimer: This publication has been prepared by the Economic and Financial Analysis Division of ING Bank N.V. ("ING") solely for information purposes without regard to any ...
more