GBP/USD: At Critical Crossroads, Next Moves Hinge On Boris' Reopening, Biden's Boost
GBP/USD has been tackling new highs amid optimism about the UK, turbulent dollar moves.
Britain's easing of restrictions, retail sales, Fed support, US stimulus are set to rock markets.
GBP/USD's daily chart is painting a moderately bullish picture.
The FX Poll is pointing to falls on all timeframes.
Courageous cable – GBP/USD has finally hit the round 1.40 level in a mix of British of upbeat UK coronavirus statistics and a twist lower in the dollar amid yield-moving stimulus speculation. Both topics are expected to reach the climax in the last week of February, while economic data is set to have its time in the sun as well.
This week in GBP/USD: Optimism dominates
"It is because of the British variant" – that is the reason or excuse of several countries struggling to cope with COVID-19. In the UK, where this strain known as the Kent variant originated, victory seems to be at hand. Recent coronavirus infections, hospitalizations, and deaths are all falling sharply.
Is that a result of the rapid vaccination campaign – around a quarter of Brits have received one-shot – or the lockdown? The answer is irrelevant to investors, who only see a more significant and sooner return to normal. The pound has been benefiting from these prospects.
Covid infections in the US, the EU and the UK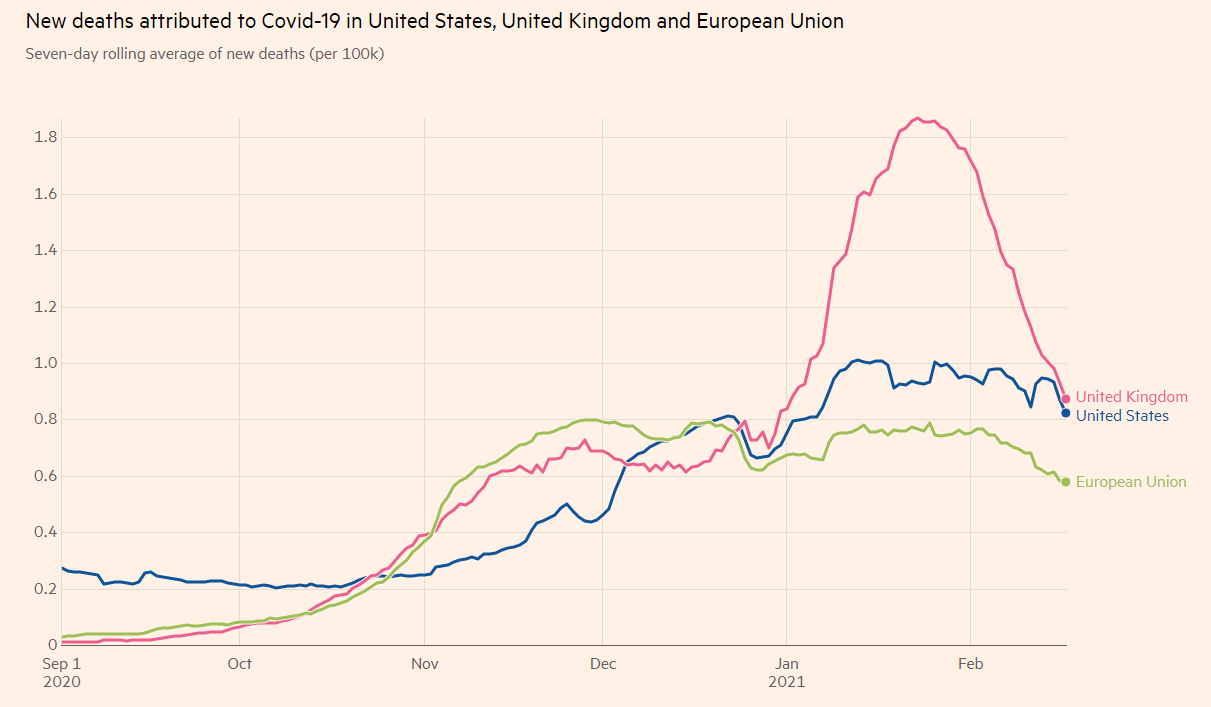 Source: FT
UK data was mixed. While Markit's preliminary Purchasing Managers' Indexes for February pointed to quicker recovery, January's retail sales badly disappointed with a plunge of 8.2%. Markets did what they usually do – watch the future rather than the recent past.
An even more complicated contradiction was seen in the US. While retail sales leaped by 5.3% in January – smashing all estimates – the setback in jobless claims, which rose to 861,000, served as a reality check. The additional layer of complexity came from the reaction.
The disappointing unemp[loyment data implies a greater push for President Joe Biden's covid relief package worth as much as $1.9 trillion. Earlier, upbeat consumption data lowered the chances for large fiscal support. Moreover, the dollar is torn between its role as a safe-haven and rising US Treasury yields. The sell-off in bonds supported the greenback, but hopes for robust global growth weighed on it.
Disclaimer: Foreign exchange (Forex) trading carries a high level of risk and may not be suitable for all investors. The risk grows as the leverage is higher. Investment objectives, risk ...
more