FTSE Sentiment Sours As Wage Growth Adds Concerns About BoE Action
Image Source: Unsplash

On Tuesday, the London stock market experienced a significant decline driven by concerns stemming from remarkable wage growth, which heightened fears of inflation and potential additional interest rate increases. In the three months leading up to June, British wages, excluding bonuses, surged to an unprecedented 7.8% higher than the previous year. This escalation in wage growth contributed to the Bank of England's (BoE) concerns regarding persistent inflation in the long term. This, in turn, raised the likelihood of interest rates remaining elevated for an extended period.
The FTSE 100 index, which is weighted towards exporters, witnessed a decline of 1.8%. This drop was attributed to the pound's increase, rising by up to 0.28% to reach $1.2720 immediately following the release of the wage growth data. The surge in the pound was accompanied by a corresponding rise in both short-term and long-term gilt yields. Stocks in the real estate sector, sensitive to interest rate changes, experienced a decline of 1.9%.
Legal & General Group Plc, a UK-based insurer, experienced a decline of 2.5% in its share value. The company secured its position as one of the big losers on the FTSE 100 index. During the first half of the year, Legal & General's operating profit displayed a decrease. The reported figure stood at 941 million pounds ($1.20 billion), as opposed to the previous year's 958 million pounds. Furthermore, the company's internally gathered consensus forecast for the operating profit in the first half was noted at 834 million pounds.
UK home construction companies and property stocks faced a downward trajectory as concerns over potential rate hikes weighed heavily on the market sentiment. The index tracking UK homebuilders experienced a decline of 1.3%, marking the third consecutive day of losses. Meanwhile, the FTSE Real Estate index, which encompasses both commercial property enterprises and real estate investment trusts (REITs), also witnessed a drop of 1.4%. In terms of specific stock performance, Persimmon experienced a decline of 2.1%, emerging as the most significant percentage loser on the UK housebuilders' index. Industrial miners were once again leading the charge lower as concerns regarding the Chinese economy continue to linger, leaving Anofagasta bottom of the index today nursing losses of 3.6% with Glencore in hot pursuit down 3.4%.
On the positive side of a heavily negative ledger value retailer saw an uptick in its share price as investors believe the higher rate environment will drive consumers to see additional value from spending, shares in B&M rose 1.7% heading into the close

FTSE Intraday Bullish Above Bearish below 7520
Below 7300 opens 7250
Primary supportis 7240
Primary objective 7750
20 Day VWAP bullish, 5 Day VWAP bearish
(Click on image to enlarge)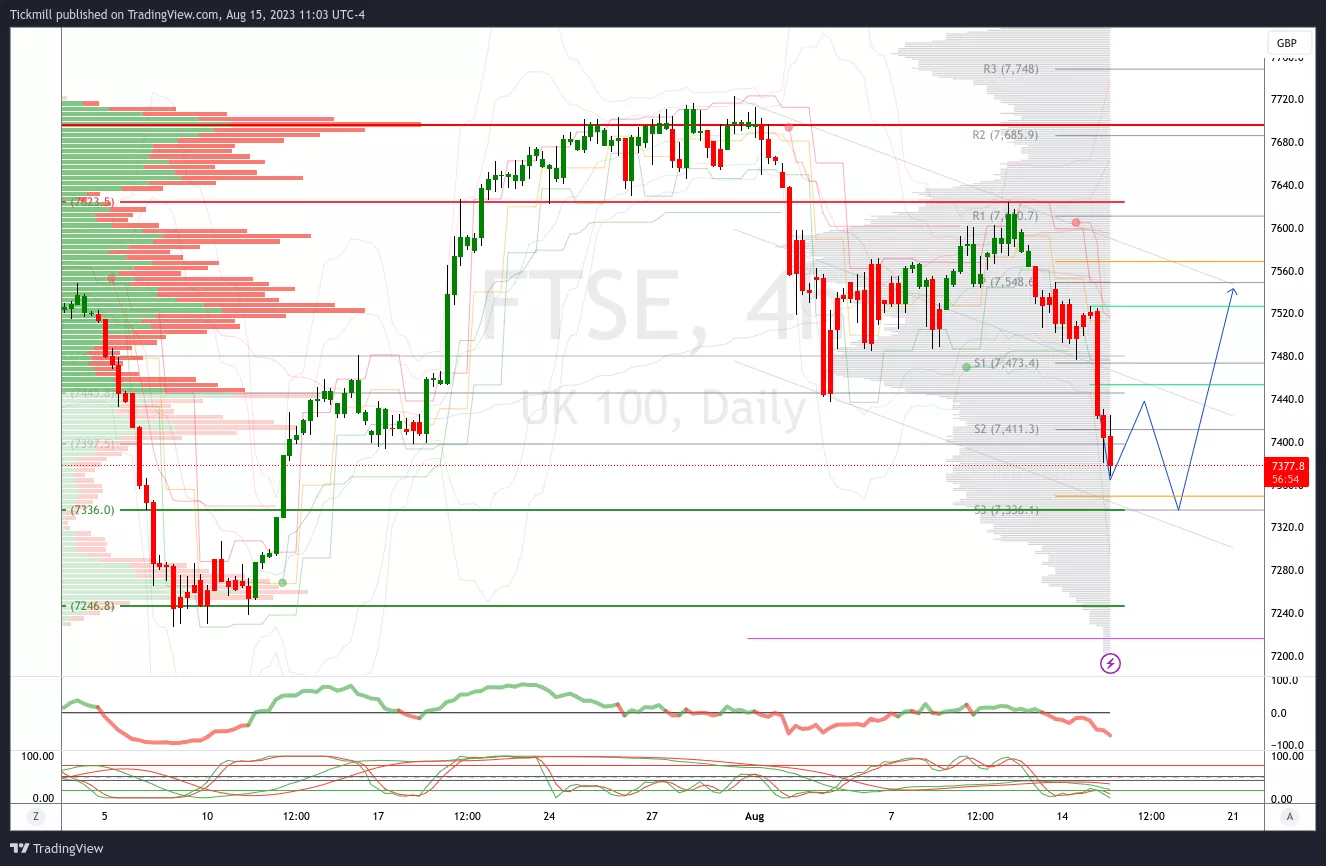 ---
More By This Author:
Daily Market Outlook - Tuesday, Aug. 15
FTSE China Concerns Continue To Weigh On Export Heavy Blue Chips
Daily Market Outlook - Monday, Aug. 14
Disclaimer: The material provided is for information purposes only and should not be considered as investment advice. The views, information, or opinions expressed in the text belong solely to ...
more