FTSE Recovers After Three Weekly Declines
Image Source: Unsplash

On Monday, the UK's primary stock indexes experienced modest gains as the chemicals sector, led by a rebound in Croda International, contributed to the moderately positive tone. Investors remain watchful of a series of upcoming domestic economic data releases and significant central bank decisions scheduled for the week. The benchmark FTSE 100 index closed just about in the green, up 0.11% recovering from three consecutive weekly declines driven by concerns about ongoing global policy tightening after surprise rate hikes by two major central banks last week. Investors eagerly awaited the release of inflation data from the United States on Tuesday, which would provide insights into the monetary policy decision of the Federal Reserve, set to take place the following day.
Throughout the week, investors will carefully analyse domestic employment market indicators and economic growth data to assess the current state of the economy and the potential trajectory of policy tightening by the Bank of England (BoE). Simultaneously, the Confederation of British Industry (CBI) anticipates that the economy will successfully avoid a recession this year. However, the trade body notes that underlying challenges, such as sluggish business investment, will continue to persist.
Croda International witnessed a 3.19% increase, leading the way for gains in chemical stocks. This recovery follows a decline on Friday prompted by a disappointing earnings forecast, however, bargain hunters stepped in today leaving Croda second from the top spot as Ocado notched up an impressive 3.62% gain on the session, gains came after BNP Paribas Exane upgraded the stock to a neutral rating. BNP Exane analyst Andrew Gwynn raised the target price by 3% to 365p, expressing the view that Ocado's outlook and market sentiment are now more aligned. The UK-based online grocer is entering a phase of greater stability after encountering challenges in growing volume and managing excess capacity following the pandemic.There is a growing sense that Ocado is gaining better control over capital expenditure and operating costs, shifting focus from EBITDA to cash flow. Moreover, the company is progressing through the peak of its investment spending, which eases pressure on its cash flow. On the negative side of the ledger, Fresnillo took the bottom spot on the blue chip index today after shedding 4.22%, well off its 52 week highs of £9.97 with Vodafone in hot pursuit finishing off by 2.71% on the session.

FTSE Bias: Intraday Bullish Above Bearish below 7550
Below 7540 opens 7435
Primary resistanceis 7660
Primary objective 7720
20 Day VWAP bearish, 5 Day VWAP bearish
(Click on image to enlarge)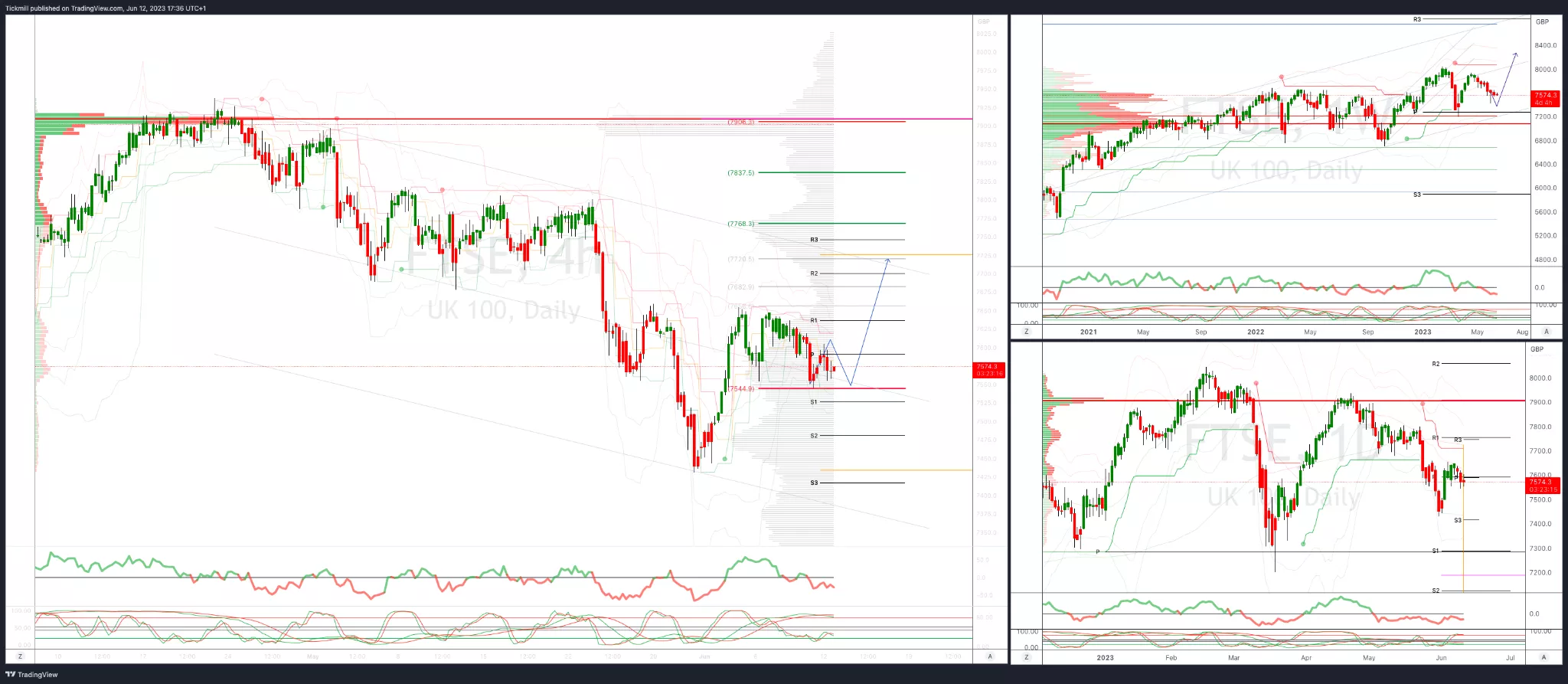 (Click on image to enlarge)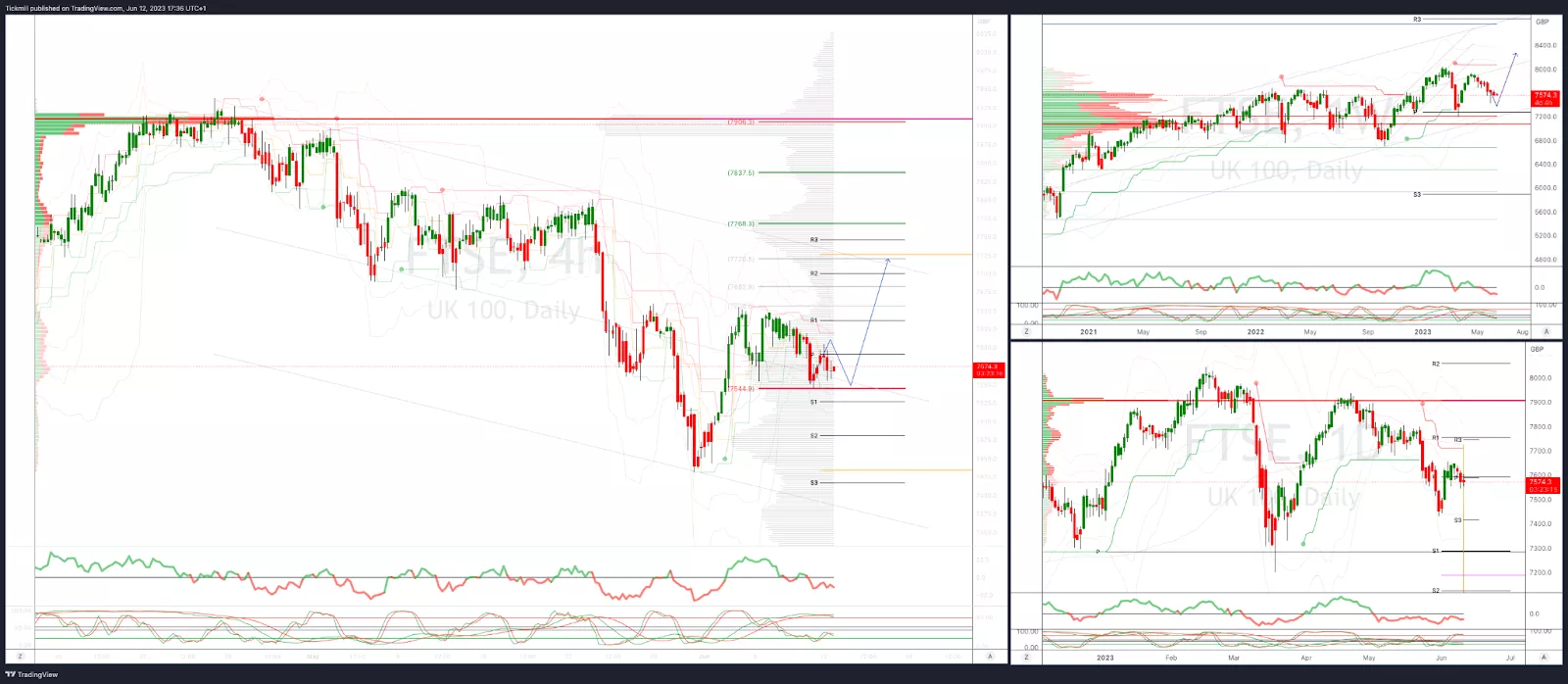 ---
More By This Author:
Daily Market Outlook - Monday, June 12
Daily Market Outlook - Thursday, June 8
FTSE Turnaround Tuesday Turns To Whimper Wednesday
Disclaimer: The material provided is for information purposes only and should not be considered as investment advice. The views, information, or opinions expressed in the text belong solely to ...
more