From Emerging Markets To Emerging Leaders: 3 Ways To Play Latin America's Ramping Growth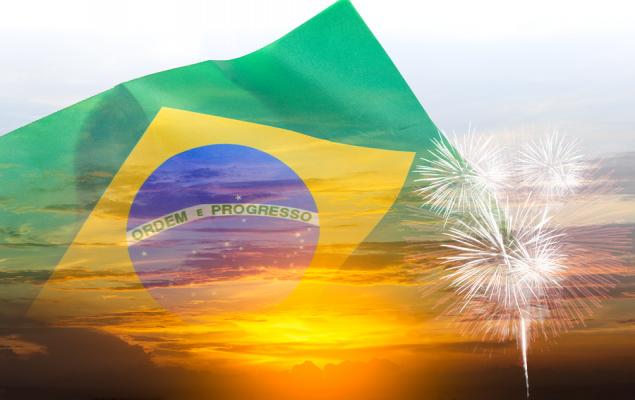 Image: Bigstock

Latin America is Presenting Growth Opportunities
As investors, our job is to look for opportunities wherever they may arise. Though domestic equities provide ample opportunity, it is also worth focusing on emerging markets.
Firstly, investors may find benefits to tracking emerging markets because they are earlier in their growth trajectory. In other words, even though the companies may be smaller in size, their growth potential is often higher. Secondly, emerging markets provide investors with a means of diversification. If your entire portfolio is too concentrated in one market, an adverse price move in the wrong direction could devastate your portfolio.

How to Play Latin America's Growth - ETFs
Investing in ETFs is the most straightforward way to participate in Latin America's economic development. ETFs are useful for investors because they eliminate single stock risk, are highly liquid, and save investors time researching individual companies.
Despite the sentiment you may hear echoed in the news about these economies, the price action doesn't lie. For example, over the past year, the Global X MSCI Argentina ETF (ARGT - Free Report) is up by 23% and is just 7% off its all-time highs. Argentina's stock market is being driven by a revival of economic growth and the rise in citizens looking to equities markets to escape rampant hyperinflation.

Image Source: Zacks Investment Research
Mexico is another country seeing economic strength. Because of the strained relationship between the United States and China, many U.S. companies are moving to minimize geopolitical risk by moving their manufacturing to Mexico.
As a result, the iShares MSCI Mexico ETF (EWW - Free Report) is up 21% year-to-date. In Friday's session, the ETF broke out of multi-month price consolidation to fresh highs in expanding volume – a bullish indicator.

Image Source: Zacks Investment Research

No Need to "Reinvent the Wheel"
Another way to find opportunities in Latin America is to look for companies that are mirroring the success already achieved by similar companies in the United States.
StoneCo (STNE - Free Report) is a financial technology solutions provider. The company is the premier player in the Brazilian digital payments market and is considered the "Brazilian Paypal (PYPL - Free Report)."

A Long Runway
Unlike the U.S. market, which is saturated with digital payment companies, Brazil's market is largely untapped. As Brazil's economy develops, more and more of its citizens will begin using digital payments. Though most payments are still conducted in cash, the shift into the digital world is starting, and it is showing up in STNE's earnings and earnings estimate picture.

Earnings
Last quarter, EPS swung to a profit of $0.14 per share versus a loss the year before. Meanwhile, revenue jumped a healthy 52%. In the past 60 days, the Consensus Estimate Trend has been revised higher more than once for the next quarter and the full year.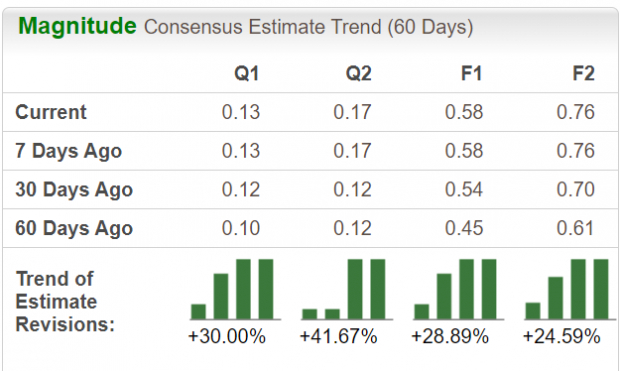 Image Source: Zacks Investment Research

Top Tier Industry Group
The Zacks Internet – Software Industry that STNE is in has been outperforming the market and is ranked in the top 27% of all groups tracked.

Relative Strength and Diversification
STNE checks all the boxes. First, since the company is international, it aids investors in gaining portfolio diversification. Secondly, the stock is showing strong relative strength. Over the past month, STNE is up by 30%, drastically outperforming the 3% gain in the S&P 500 Index.
From a technical perspective, the stock is trying to break over a key zone which it has failed to breach several times in the past. However, the recent relative strength coupled with the strong expectations going forward gives me confidence that this break-out will stick. If the stock can reach and stay above the $12.50-13.00 zone, then there would be a ton of room to run.

Image Source: Zacks Investment Research

Bonus
ARGT's largest holding is MercadoLibre (MELI - Free Report), the Buenos Aires-based e-commerce leader of South America. While MercadoLibre is based in Argentina, its largest market is Brazil. Recently, Brazil elected a new president who is likely to implement more stimulus in the form of welfare to its citizens. The move is expected to be a catalyst for MELI moving forward, and thus, the ARGT ETF.
---
More By This Author:
Don't Overlook These Top-Ranked Stocks As Earnings Approach
These 3 Large-Caps Roared In April
Kellogg Expected to Beat Earnings Estimates: Should You Buy?
Disclosure: Zacks.com contains statements and statistics that have been obtained from sources believed to be reliable but are not guaranteed as to accuracy or completeness. References to any specific ...
more