Eurozone Mobility Was Already Sliding Ahead Of New Restrictive Measures
Mobility in the eurozone started to slow down even before governments announced new COVID restrictions. Headwinds for the eurozone economy at the turn of the year have clearly increased.
Mobility has already been on the decline, but marginally
As the next wave of COVID-19 is rapidly expanding across eurozone countries and the new Omicron variant has emerged as a new risk factor, concern that the pandemic will dominate winter are increasing. While vaccinations had initially reduced the ratio of hospitalizations, daily new cases have become so high that the impact on hospitals in several eurozone countries is rapidly becoming unsustainable. In Germany, for example, intensive care patients are already flown out to other regions to reduce the pressure on hospitals. With new lockdown measures being implemented or discussed, we want to take stock of the mobility impact of the wave so far.
Mobility has seen small declines so far across major eurozone economies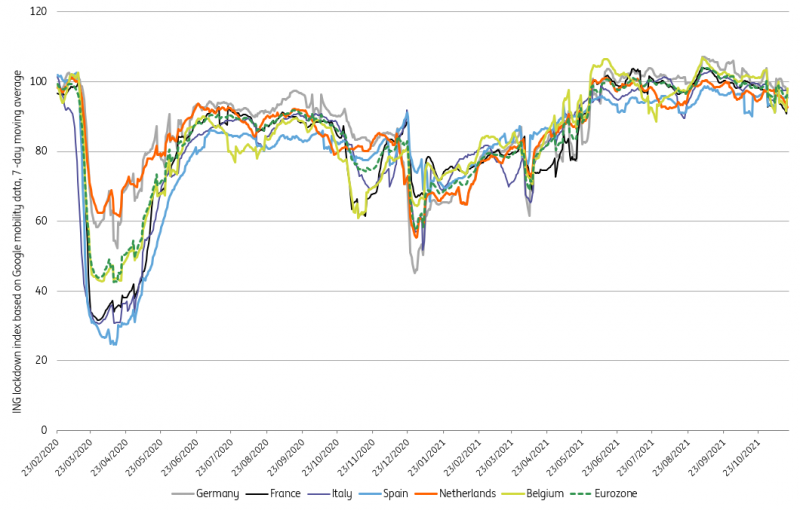 Source: ING Research, Google COVID-19 Community Mobility Reports
Note: index of activity since 15 Feb 2020 for retail & recreation, groceries & pharmacies and workplaces using Google COVID-19 Community Mobility Reports with data through 18 November 2021. 100=baseline of activity between 3 Jan and 9 Feb 2020
Mobility data from Google showed a steady increase until the end of the summer, with a turning point for the eurozone as a whole on 9 September. After that, we see a steady decline in daily trips to retail, grocery stores and leisure activities, while mobility at workplaces has held up relatively well. Despite the slowdown, activity is still higher than at any point during the summer of 2020 and comparable to late May 2021. This suggests that precautionary measures or voluntary changes in behavior are still mild and that the fear of the virus is not yet very strong. However, even if it is modest, the decline in mobility so far adds to headwinds to GDP growth.
Disclaimer: This publication has been prepared by ING solely for information purposes irrespective of a particular user's means, financial situation or investment objectives. The information ...
more