European Threats
Someone asked recently how many times I had "crossed the pond" to Europe. I really don't know. Certainly dozens of times. It's been several times a year for as long as I remember.
That makes me an extremely unusual American. Most of us never visit Europe, except maybe for a rare dream vacation. And that's okay because our own country is wonderful and has a lifetime of sights to see. But it does affect our perspective on the world. Many of us don't fully grasp how important Europe is to the US and global economy.
We may soon get a lesson on that. I've talked about Italy's ongoing debt crisis, which is not improving, but Europe has other problems, too. Worse, events are coalescing such that several potential crises—all major on their own—could strike at the same time, and not too long from now. As I've been saying for about three years, there is no reason for the US to have a recession on its own. I think events elsewhere will push us into it, and Europe is a really big current risk. I know from my visits to Europe and discussions with friends there, they see all sorts of problems with Trump and particularly his tariffs.
However, another concern is that the various actors in Europe are not playing nice with each other. I tell my European friends the same forces that yielded Trump are coming to a European country near them. In some places, they already have.
So, in my never-ending quest to keep you ahead of the curve, I'll review what's happening "over there." This may be a turnabout for European readers who rely on me to describe what's happening over here. But as you'll see, we are far more connected than separated by distance.
(Note: The link is to my favorite version of "Over There" written by George M. Cohan, here sung by James Cagney in 1942 for the film Yankee Doodle Dandy. It was written at the beginning of World War I and quickly became the number one song of not just that era but also the World War II era. Younger generations may not remember music with so much unbridled, enthusiastic patriotism. They can be excused for not quite understanding such feverish intensity. It was a different era.)
Monetary Drug Withdrawal
Last week my British friend Jim Mellon sent me a fascinating article with an alarming title: "News from Euroland—Recession Imminent." I'm not certain when Jim sleeps, as I get a few emails from him every day at seemingly random times, always with pithy, on-target reading material. (Although I can usually figure out when he is in Great Britain by their timing.)
Now, I am not one who falls prey to click-bait headlines (nor is Jim) and I'm also well aware Europe's economy is weakening. I would not have said recession was imminent but reading this article left me more than a little concerned. The author, economist Victor Hill, ties events together in ways many haven't considered.
(By the way, Over My Shoulder members can read the full story here. If you aren't one, I highly recommend you join us, even if only to read this one item. It's important. Sign up here.)
Hill begins the piece this way.
Across Europe, and particularly in the 18-member Eurozone, the economic news is sobering. It's now clear that the credit crunch in emerging markets which has played out over most of this year, plus the slowdown in China, are having negative consequences in Europe. Yet, despite the ongoing trauma of Brexit, the UK is cruising along relatively smoothly—for now.
A number of critical events are about to coincide…
The first such event is the impending end of the European Central Bank's quantitative easing "Asset Purchasing Programme," which has been propping up asset prices with wholesale purchases of bonds, stocks, and anything else that isn't nailed down.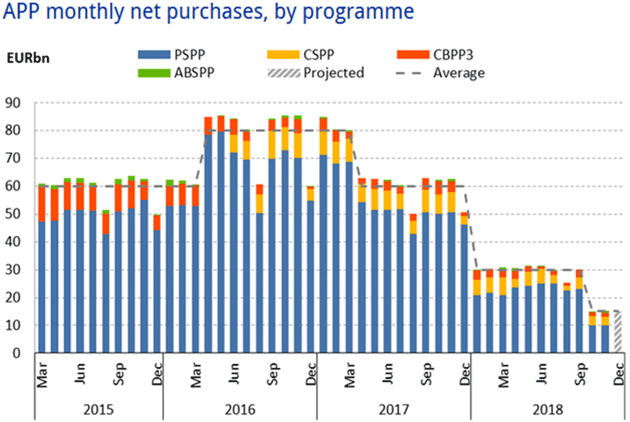 Graphic: European Central Bank
Mario Draghi and his crew borrowed our Federal Reserve's plan and, if possible, made it even crazier. You can see in the chart they have been stepping down purchases. The pace should reach zero in early 2019. But this doesn't account for assorted other loan programs, which some would like to see continue or even expand. Germany opposes all such policies and I think will get its way, especially since Draghi will be leaving next year.
This means the Eurozone is about to lose a monetary drug on which it has grown highly dependent. But those 18 nations will not be the only ones affected. The larger EU needs a thriving core to stimulate growth for the whole continent.
Note that Draghi will finish his term as ECB president in October 2019. Economists (what do they know?) project he will make his first interest rate increase just one month before he leaves, in September. That means taking rates from -0.40 bps to -0.20, still below zero.
Disclaimer: The Mauldin Economics website, Yield Shark, Thoughts from the Frontline, Patrick Cox's Tech Digest, Outside the Box, Over My Shoulder, World Money Analyst, Street Freak, Just One ...
more