EC

European Elections: Four Key Battlegrounds For Markets
Elections to the European parliament take place over the next four days. Concerns are high that the center ground continues to fragment and that populists succeed in sufficient numbers to derail further European integration. In this article, we focus on four key battlegrounds to measure the march of the populists and assess its impact on FX and bond markets.
Three scenarios and four key battlegrounds for markets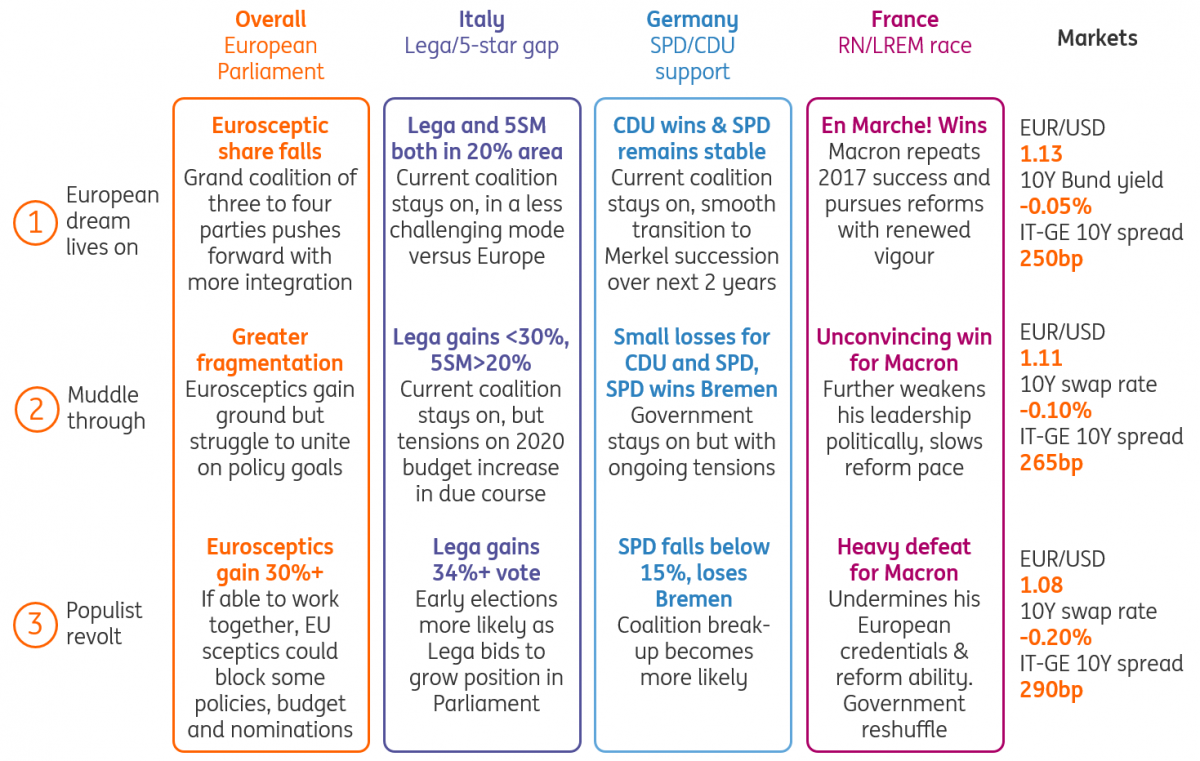 Source: ING
1 Eurosceptics gain one-third of seats in the Parliament
Eurosceptic parties look set to make gains in the elections this weekend, led partly by the emergence of Italy's Lega since the 2014 election. According to Politico, the three main eurosceptic factions within the European Parliament look set to secure just shy of a quarter of seats at this election which, combined, would be more than the traditional European People's Party (EPP) or Socialist and Democrat (S&D) groups.
However, the big question will be whether the eurosceptic parties can organize into a united front on policy goals. While most populist/eurosceptic parties gained support on the refugee topic, they currently differ on possible solutions, as well as on other topics.
In other words, the European Parliament could become more fragmented, but not necessarily significantly more eurosceptic (these parties already hold 20% of seats collectively). For markets, the two things to watch will be a) if the collective eurosceptic share of the vote significantly exceeds 25% and b) whether these parties can work together as a united group over coming months.
2 German social democrats (SPD) support falls below 15% and loses in Bremen
The German Social Democrats (SPD) only very hesitantly joined the federal government last year and have pledged a mid-term review of the government's work after the summer. The party is forecast to lose seats at the European elections, but there is also a risk of a symbolic defeat in the historic stronghold of Bremen in Sunday's regional vote.