EUR/CAD, EUR/NOK, EUR/SEK Price Outlook As Euro-Area Lockdowns Return
March marks the one-year anniversary of the Covid-19 pandemic and its impact on the world economy and financial markets. The Euro strengthened sharply in March of 2020 as risk assets sold off and investors fled to cash and safe-haven currencies. Since this spike, the Euro has mostly headed lower against a number of pairs.
EUR/CAD resurged again in August, rising to trade just shy of the March high, near the 1.6000 level. The pair traded lower after that high, consolidating between the 1.5400 and 1.5800 levels through the end of 2020.
EUR/CAD: 1 DAY TIME FRAME (NOVEMBER 2020 – MARCH 2021)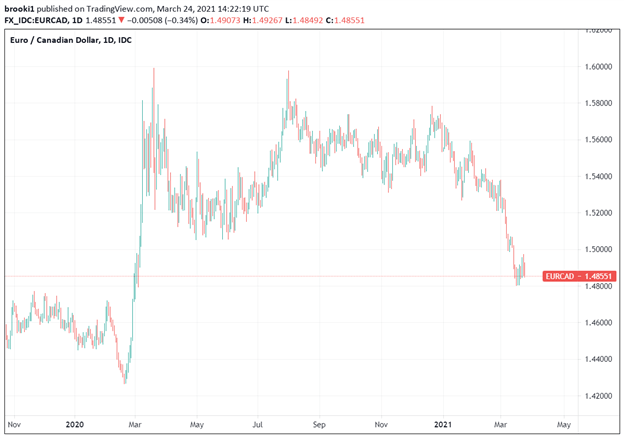 Chart created by Izaac Brook, Source: TradingView
After a break lower and an attempt higher in January, EUR/CAD accelerated downward in February and March as the Canadian Dollar rebounded, buoyed by rising oil prices and economic data prints far above their forecasts. EURCAD hit a pandemic low in mid-March, finding support at the 1.4800 level. The pair had since edged slightly higher as volatility in oil prices translated into some weakness in the Canadian Dollar.
Further moves in the pair may by driven by further movements in the price of oil and by the Bank of Canada. On March 23rd, the Bank of Canada began to provide guidance on the tapering of QE and announced the termination of its emergency liquidity facilities. A tightening of monetary policy should translate into further Canadian Dollar strength in the future, putting downward pressure on EUR/CAD.
EUR/NOK declined quickly from the March 2020 high around 13.0000, finding support around the 10.5000 level throughout the summer. The pair then surged to multi-month highs above the 11.0000 level in the fall.
EUR/NOK: 1 DAY TIME FRAME (NOVEMBER 2020 – MARCH 2021)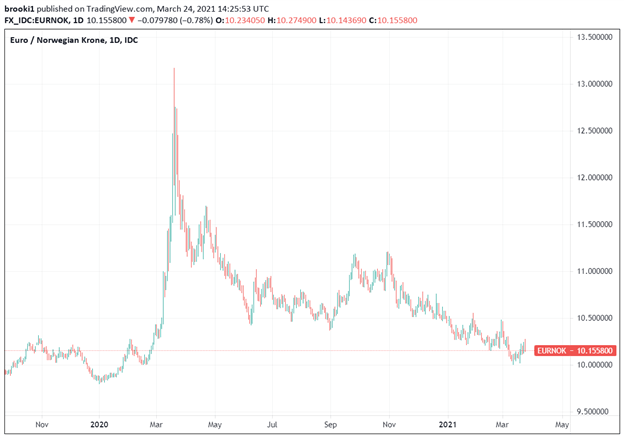 Chart created by Izaac Brook, Source: TradingView
EUR/NOK broke below the 10.5000 level at the beginning of the new year and has remained there since, with the level now playing the role of resistance rather than support. The pair bottomed just above the 10.0000 level in early March, trading at its lowest point since February of 2020. While the pair has slightly rebounded since hitting these lows, it continues to trade around its lowest levels of 2021.
Disclosure: See the full disclosure for DailyFX here.