ECB Sounds The Alarm On Climate Risk For Banks
Climate change will be a major source of systemic risk to banks if no action is taken, according to the ECB, threatening those highly exposed to economic sectors or geographical areas most in peril. Supporting the 'greening' of these risk sectors gives banks opportunities to increase the taxonomy compliance of their lending books.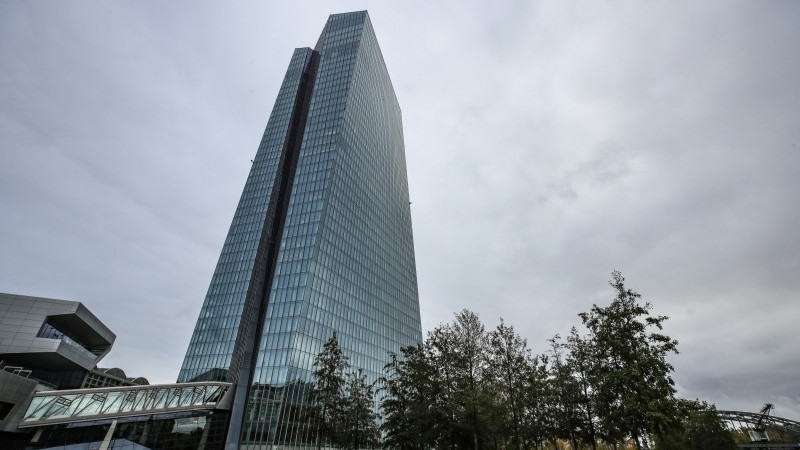 Climate change: a source of systemic risk to banks if not mitigated
This week, the European Central Bank published the results of its economy-wide climate stress test, giving insight into the vulnerabilities of banks to climate risks via their exposure to non-financial companies. The central bank concludes that it is important to act early as, by far, the short-term costs of transition are not as significant as the medium to longer-term costs of not combatting climate change. If little is done, the effects of climate change will mostly be concentrated in certain geographical areas (primarily physical risk related) and sectors (mainly transition risk related).
Sectors such as mining and agriculture are exposed to transition risks
Where it comes to transition risks, sectors such as mining, electricity & gas, agriculture, manufacturing, and water supply & waste are the most emission intense, according to the ECB. Manufacturing, electricity & gas, transport, and wholesale &retail activities are the biggest contributors to overall absolute emissions. The latter sectors represent 40% of bank loan exposure. On a country-by-country basis, ECB statistics show that bank loans in France and Italy are particularly exposed to very high emitters or high emitters; the figures comes to around 50%.
The share of firms subject to climate risk by sector
ECB estimates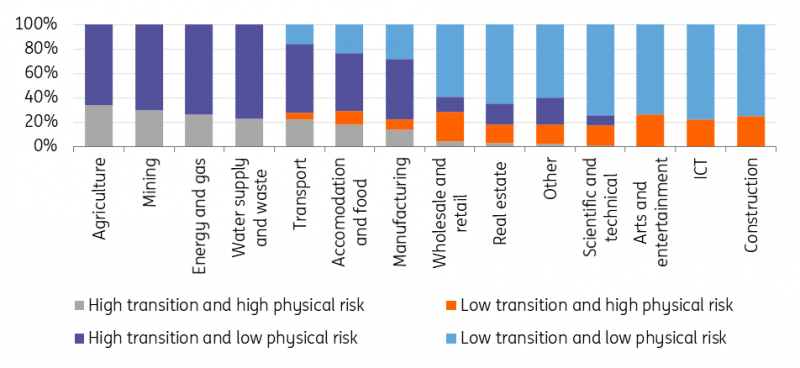 Source: ECB Occasional Paper on the economy wide climate stress test, September 2021
Southern European countries are most exposed to physical risks
However, the ECB actually sees physical risks as the most important for banks if no action is taken. If climate risks are not addressed, bank losses could continue to increase non-linearly over time due to the permanent nature of climate change. The ECB identifies 22% of the euro area bank exposures as being affected by high physical risk, of which wildfire is the most important source of high physical risk (~70%). Southern European countries appear most exposed to this risk if climate change is not mitigated.
Helping companies transition offers banks green lending opportunities
So how will banks respond to these risks? It's not just a case of simply moving away from sectors most impacted by transition and/or physical threats. They make take the opportunity to support the transition efforts of those companies running high climate risks, knowing that such a transition will be costly and will require funding. Where banks do finance these transitional expenditures, it may also contribute positively to the size of their lending books and that's deemed environmentally sustainable under taxonomy regulation. This, in turn, would be supportive of the issuance of green bonds by banks, including bonds meeting the requirements of the future European green bond standard.
Bank bond performance

€8bn

Bank bonds issued this week

Covered bonds take the lead
Bank bond supply

Disclaimer: This publication has been prepared by the Economic and Financial Analysis Division of ING Bank N.V. ("ING") solely for information purposes without regard to any ...
more