Downturn Rising, German Industry
You know things have really changed when Economists start revising their statements more than the data. What's going on in the global economy has quickly reached a critical stage. This represents a big shift in expectations, a really big one, especially in the mainstream where the words "strong" and "boom" couldn't have been used any more than they were. If you read nothing other than Bloomberg, it's as if some alien force has descended upon the world and completely spun it around the other way.
With that in mind, now they say 2017 wasn't really all that:
The cyclical upswing that took hold of the global economy in mid-2017 was never going to last. Even so, the extent of the slowdown since late last year has surprised many economists, including us.
"Us" being a couple of Bloomberg Economists who are now in the uncomfortable position of writing about their forecasting model striking the lowest posture since 2009. "The global economy's sharp loss of speed through 2018 has left the pace of expansion the weakest since the global financial crisis a decade ago, according to Bloomberg Economics."
The probabilities have all changed, only not as much as you might have expected. Bond curves around the world have been uniformly skeptical about this last upturn; more likely to sour than soar. As more and more data comes in from key places around the world, sour appears to have been the correct interpretation. Ignore the flattening curves, they said, just term premiums.
(Click on image to enlarge)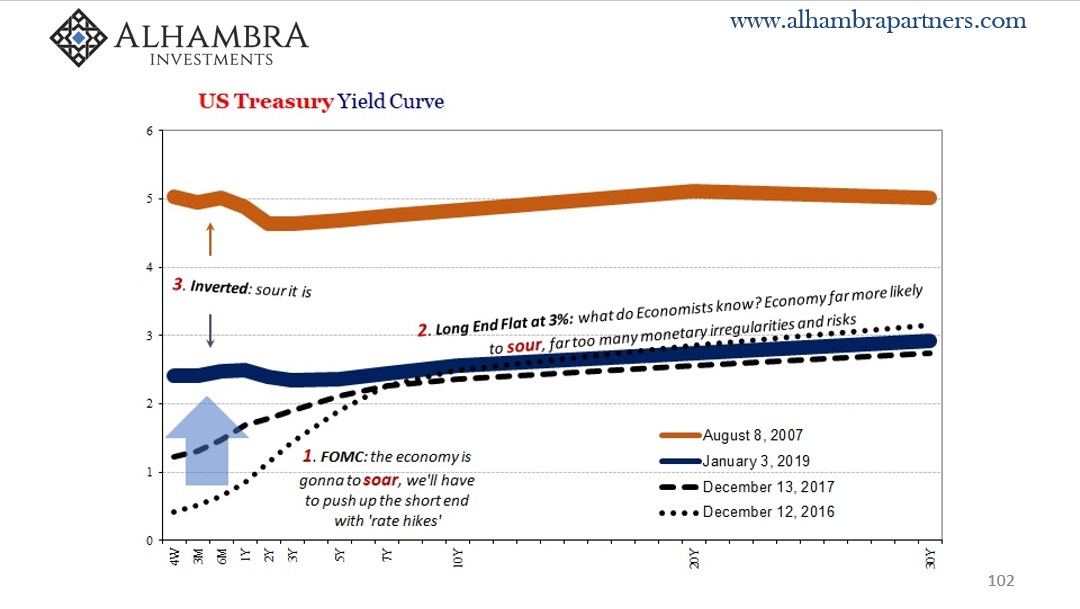 Germany is one such bellwether. Whether you are partial to Korean nukes, trade war rhetoric and uncertainty, even the inflationary scenario formerly of Draghi and Powell, "whatever" it was it smacked the German goods economy first and hardest. Since, at the margins, this particular piece derives much of its strength from selling stuff to the rest of the world, if suddenly Germany's factories are scaling back we know what that says about the true state of the global economy.
Disclosure: This material has been distributed for informational purposes only. It is the opinion of the author and should not be considered as investment advice or a recommendation of any ...
more