Dow Jones Awaits Trade Data, DAX And ASX 200 Look To Rate Decisions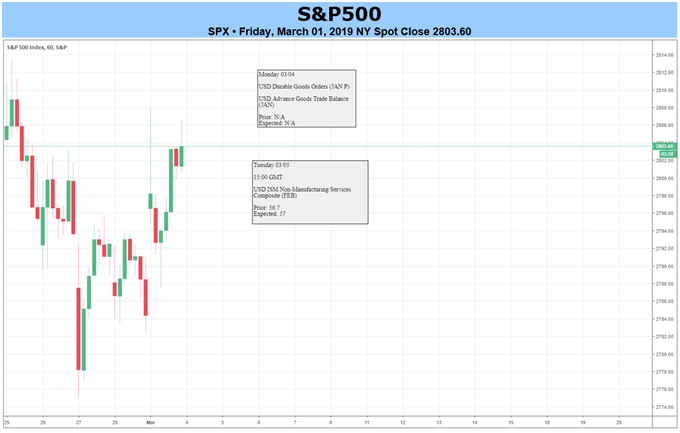 STOCK MARKET TALKING POINTS:
The Dow Jones will look to trade and unemployment data for trend continuation purposes
Germany's DAX 30 awaits a rate decision from the ECB on Wednesday
Australia's central bank is also slated for a rate decision, a key event for the ASX 200
DOW JONES FUNDAMENTAL OUTLOOK
Forecast: Mixed
The Dow Jones Industrial Average ended the week lower for the first time in 9 weeks on Friday. The streak of higher weekly closes was the longest for the Dow since 1995. Still, the index trades slightly below key technical resistance and data in the week ahead may dictate price action moving forward.
DOW JONES PRICE CHART: 4 - HOUR TIME FRAME (OCTOBER 2018 – MARCH 2019) (CHART 1)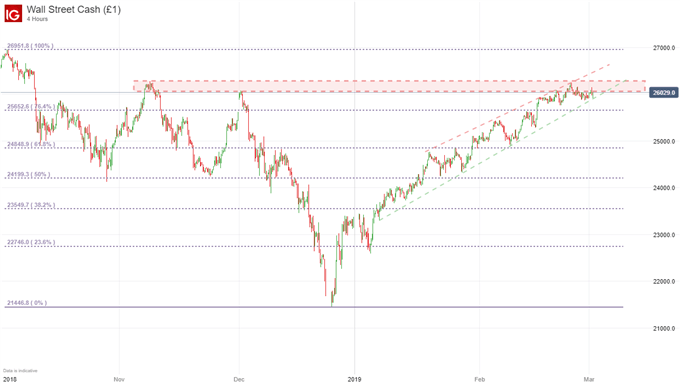 On Monday, US trade data is due and will be the first important print for the index next week. A strong performance could surprise markets and suggest the current US-China trade war is making headway in reducing the country's trade deficit.
Later in the week, the Fed's Beige Book is due on Wednesday and unemployment figures are scheduled to be released on Friday. Unemployment has been a key tailwind in sentiment indicators and an important component of the recent strength displayed by the Dow Jones and S&P 500.
DAX 30 LOOKS TO THE ECB
Forecast: Mixed
Germany's DAX 30 will look to a rate decision from the European Central Bank. While no change in rates is expected, language and tone will be critical in gauging the bank's outlook for future rate movements. Any hawkish intentions, though highly unlikely, could spell disaster for the German equity index as it mounts a rebound in the new year.
Similarly, trade wars will remain a key factor for the DAX. US President Trump has not announced any progress in his consideration of auto tariffs on the European Union, but the uncertainty will remain a headwind.
DAX 30 PRICE CHART: DAILY TIMEFRAME (FEBRUARY 2018 – MARCH 2019) (CHART 2)
Disclosure: Looking for a technical perspective on Equities?