Climate Extremists Are Losing By Winning
For years environmental extremists have campaigned with increasing success for less investment in fossil fuels. The logic has been that as CO2-emitting sources of energy become harder to access and more expensive, the world would increasingly turn to renewables. Confronting demand for energy has generally been eschewed in favor of targeting suppliers. It's far easier to demonize a few hundred companies providing the reliable energy that billions of consumers want.
EU governments have been especially keen to increase their reliance on intermittent solar and wind. The combination of reduced supply of fossil fuels and increased use of renewables is the precise result energy policies have been seeking.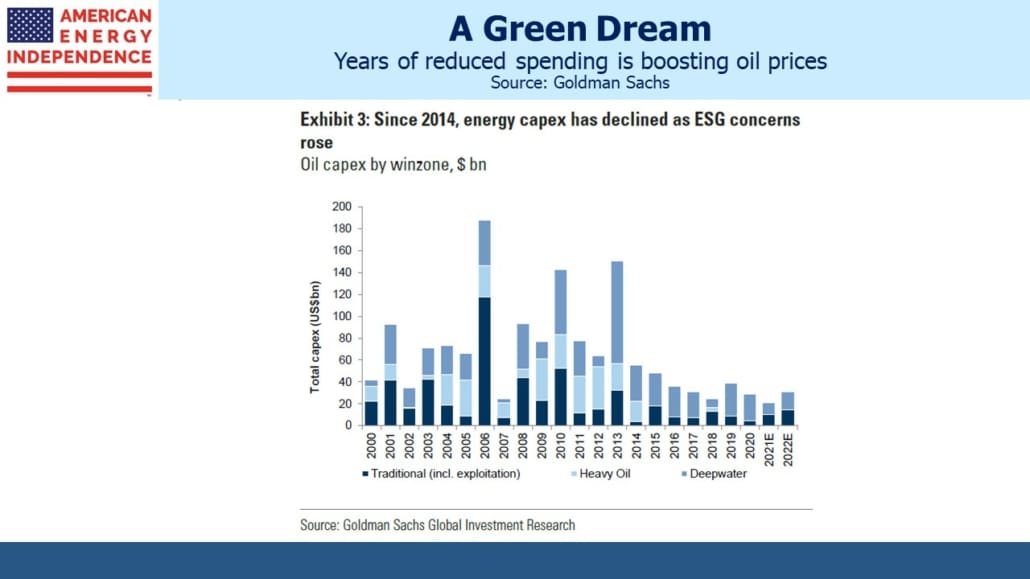 The success of this strategy is now delivering to European customers what should have been expected – sky high electricity prices combined with increased risk of supply interruption.
Unusually calm weather in the normally windy North Sea slashed windpower from the UK's 11,000 turbines by 80%. Deprived of a source that generates more than 20% of its electricity, Britain turned to natural gas and coal (see The Cool North Sea Breeze Lifting US Coal). Europe's production of natural gas has been in decline for years, even while consumption has been rising. Imports now account for 90% of the EU's total.
With unfortunate timing, a key undersea electricity cable from France went down because of a fire at a converter station in SE England, giving UK wholesale electricity prices a further boost. Ireland, also coping with uncommonly calm winds, cut power it normally supplies to Scotland.
The result has been European natural gas prices four times the US benchmark, and wholesale electricity prices up by 8-10X from a year ago (see The Bull Market in Natural Gas). Europe-bound Liquified Natural Gas (LNG) shipments from the US have in some cases been diverted to Asia where prices are even higher.