China Auto Sales Just Posted Their Worst Month Ever
China's automobile market has continued to catalyze the global auto recession, posting its worst sales month in history for May according to the China Association of Automobile Manufacturers (CAAM). The data showed a decline of 16.4% for May, following a decline of 14.6% in April and 5.2% in March. It was the sharpest decline ever for China's auto industry.
Xu Haidong, CAAM's assistant secretary-general ignored the fact that his country was in the midst of a trade war and instead told Reuters: "One key reason for the drop was provinces implementing 'China VI' vehicle emission standards earlier than the central government's 2020 deadline, stoking uncertainty among manufacturers."
Or the same reason Europe has been using to explain away its own automotive depression recession.
"We gave the manufacturers too little time to prepare," he continued, also noting that May's drop in demand was attributable to a "decline in purchasing power in the low-to-middle income groups as well as expectations of government stimulus to encourage purchases."
(Click on image to enlarge)
Passenger vehicles were crushed lower for the 12th straight month, according to the Passenger Car Association ("PCA"). May retail passenger vehicle sales were down 12.5% on the year to 1.61 million units. May's data follows a drop of 16.6% in April and 12% in March. Passenger vehicle sales include sedan, MPV, SUV and minivan sales. SUV sales were down 9.6% to 669,395 units.
Turning toward individual brands, Changan's auto sales fell 35% to 113,497 units in May and Great Wall Motor said that their sales had fallen 11.8% to 62,559, according to Bloomberg. Cui Dongshu, secretary general of PCA, told reporters in Beijing: "It is a pretty difficult time for the auto industry."
(Click on image to enlarge)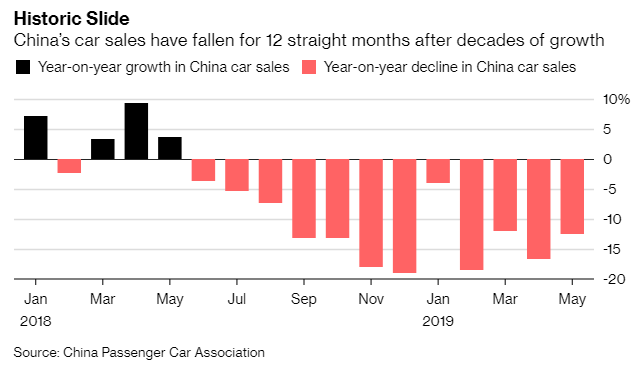 Sales by Chinese brands were down 26.5% last month, while initial data for June showed a "slight" increase in total sales from a year prior, as dealers slashed prices and continued to try and lure customers with incentives.
Disclosure: Copyright ©2009-2019 ZeroHedge.com/ABC Media, LTD; All Rights Reserved. Zero Hedge is intended for Mature Audiences. Familiarize yourself with our legal and use policies every ...
more