Best Low-Risk Countries To Invest In Real Estate
Investing in real estate overseas is a great way to protect your savings. Having all of your money tied up in the United States means your future wealth is tied to the success of the States. Investing in overseas real estate provides another layer of security.
The general rule is that if you're looking for a low-risk real estate investment, buy in areas where there is always a high demand. In general, this means big cities and tourist hotspots.
The unprecedented situation of COVID-19 is set to cause a dip at prices in tourist areas. This could represent a great time to buy for investors. Countries like Greece and Cyprus will be on sale in the near future. These traditionally safe markets could bring some very nice returns over the next few years.
But the fact that the market has dipped in tourist areas should also be a warning. If you want your investment to be as low-risk as possible then there is somewhere even safer to buy.
Real estate in major cities with a high standard of living, such as Paris and London is the safest place to buy real estate overseas. People will always want to live in these cities. Many people see property here as part of generational wealth. Apartments in London or Paris will be passed on to their heirs. This is limiting supply and keeping prices strong.
Investment in tourist areas is traditionally safe and currently comes with the chance to make a quick profit. Investing in major cities is super-safe, especially in the current financial climate.
Colombia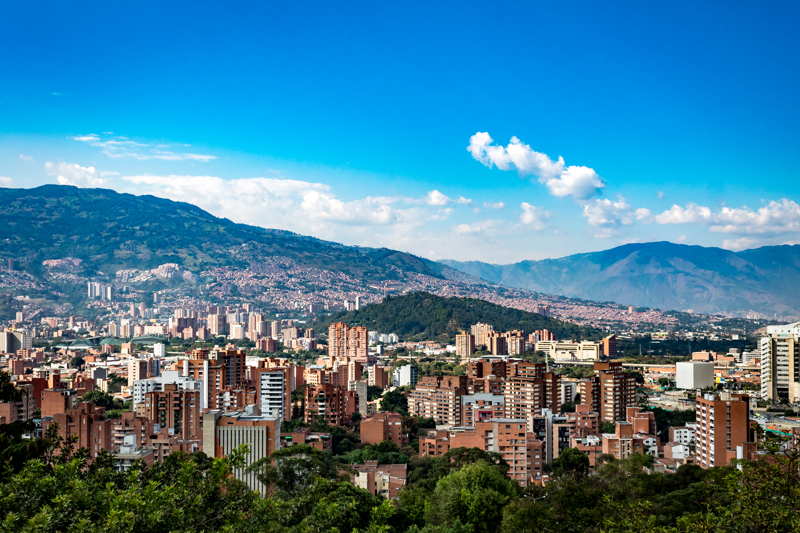 Image Source: iStock/Alex Farias Photo
Colombia is a low-risk real estate option that most people are overlooking. Not the world bank though. They rate Colombia as the number 6 country in the world for investor protection. Famous investors like Jim Rogers and Sam Vell have been putting their money in Colombia.
The U.S. dollar is currently very strong against the Colombian peso. You are currently buying in Colombia at a big discount. This exchange rate won't last forever and gives investors extra security. Even if the property market falls a little, the exchange rate will come to the rescue.