Australian Labor Growth To Slow
Controlling the pandemic has enabled Australia's labor market to rebound strongly in 2020, but with GDP still below pre-Covid levels, the rate of increase is likely to slow in the months ahead.

Jobs recovering faster than GDP?
The local peak in Australian employment came in February 2020, with full and part-time employment of 13.003 million. By November that total had already recovered to 12.8 million, just 1.6% below the 2020 peak. Our best guess for GDP once the 4Q figures are released, is that GDP will still lag Pre-Covid activity by almost 3%.
It's not unreasonable, given the government's support for jobs, to understand that employment has weathered the pandemic better than economic activity. This will reflect in much poorer productivity figures in due course. But quite honestly, right now, jobs matter considerably more than some arbitrary theoretical metric like productivity, which can be addressed later (or not).
However, it does make us query whether the rate of strong jobs growth we have witnessed in the last few months can continue to proceed at such a blistering pace, which is the main reason we are scaling back our forecast this month.
Australian employment (part-time plus full time)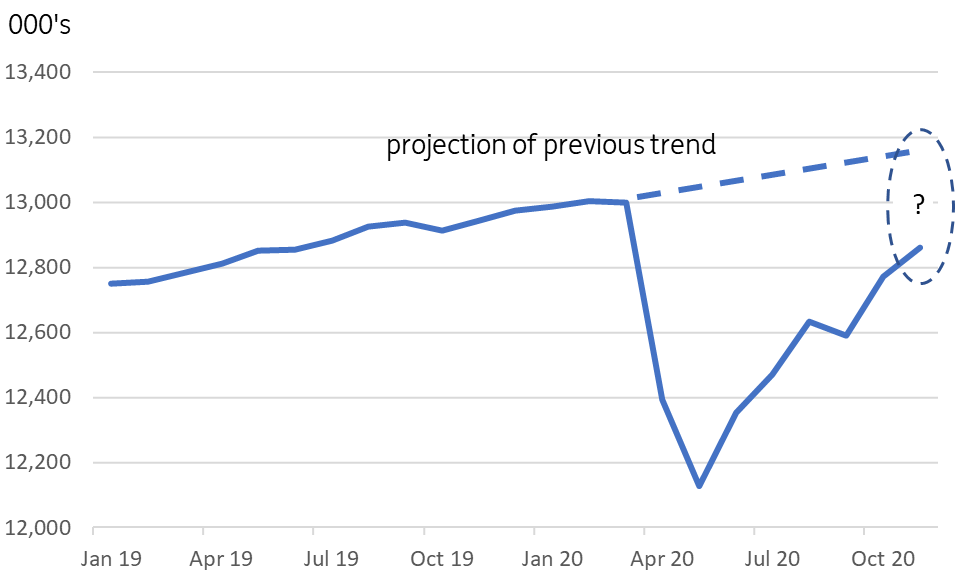 Source: CEIC
Australian employment
Downbeat but still above consensus
We are not alone in expecting a slowdown in employment growth for the December reading. Indeed, our 67K jobs forecast is at the top of the forecast range, though it is made up primarily of a bounce in part-time employment, which we figure is due after the very weak 5.8K reading in November (down from 81.7K in October...these numbers can be choppy), and we only expect about 37K full-time jobs this time.
This also likely means that we will see the unemployment rate gains slow too. The current jobless rate, 6.8%, may drop to 6.6% in December. But by the end of 2021, we still see it at 5.7%, which would indicate some considerable slack in the Australian labor market.
Disclaimer: This publication has been prepared by ING solely for information purposes irrespective of a particular user's means, financial situation or investment objectives. The information ...
more