Australian Dollar's Slide May Pause, But It's Probably Not Over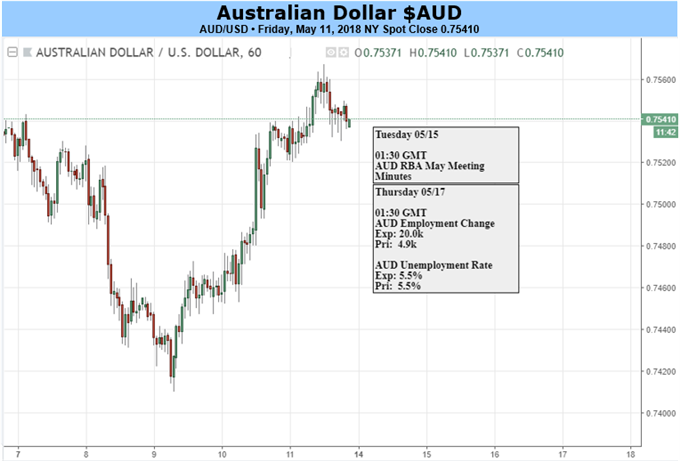 FUNDAMENTAL AUSTRALIAN DOLLAR FORECAST: NEUTRAL
The backdrop of an AUD/USD slide remains very much in place
But, weaker US CPI numbers have put the brakes on US Dollar bulls' enthusiasm
It may return, but perhaps not in too much force this week
The Australian Dollar is trading very much in thrall to the 'USD' side of AUD/USD and, although the coming week brings a couple of data points which may boost domestic influence, that backdrop is not about to change.
The currency remains in the clear downward trend which has marked trade against the US Dollar since AUD/USD peaked for this year, back in mid-January. Since then, more weak inflation data have seen the likely timing of Australian interest rate rises pushed back, while the greenback has risen against the Australian Dollar and much else, as the Federal Reserve remains on its monetary-tightening course.
Australian rate-futures markets don't fully price any rise in the record-low, 1.50% Official Cash Rate until the summer of 2019. Meanwhile the Fed is widely expected to raise its own base rate once again next month.
Still, rampant US-Dollar bulls were given pause last week by weaker-than-expected consumer price inflation out of the US. Admittedly it didn't miss the mark by very much, rising 0.2% on the month when markets had looked for a 0.3% gain. All the same, in such a Dollar-bullish environment, it was enough to put the breaks on.
The rethink may last a while now, pending more US numbers for investors to pore over. However, this week will see the release of minutes from the Reserve Bank of Australia monetary policy meeting. If these stick to their usual themes then they are likely to remind investors, as if they needed reminding, that Australian rates are going nowhere fast and that the central bank is pretty comfortable with a weaker currency.
Official Australian employment data are coming up on Thursday too, but they'll probably need to be either extremely strong or worryingly weak to move the currency market.
Disclosure: Discover what retail foreign exchange traders make of the Australian Dollar's chances right now at the more