Australian Dollar Capped By Falling Iron Ore Demand Ahead Of Inflation Data
AUSTRALIAN DOLLAR FUNDAMENTAL FORECAST: MIXED
The notable drop-off in Chinese iron ore demand may be behind AUD's recent slide lower against its major counterparts.
Better-than-expected jobs data could underpin the currency in the near term.
Upcoming inflation report may determine the trajectory of the Australian Dollar in the coming weeks.
DROP IN CHINESE IRON ORE DEMAND WEIGHING ON AUD
As noted in previous reports, the notable drop-off in iron ore exports to China may be behind the turn lower seen in the AUD/USD exchange rate in recent days, as overall demand drops to its lowest since late-July 2020.
This substantial reduction in exports could be due to the latest outbreak of coronavirus on the mainland, with residents in Shanghai banned from leaving the city after a six coronavirus cases were detected. An additional 47 cases were also reported in Heilongjian province on Friday.
Of course, given China's previous success in suppressing outbreaks, it seems relatively unlikely that case numbers will markedly move higher and force restrictions to be in place for an extended period of time.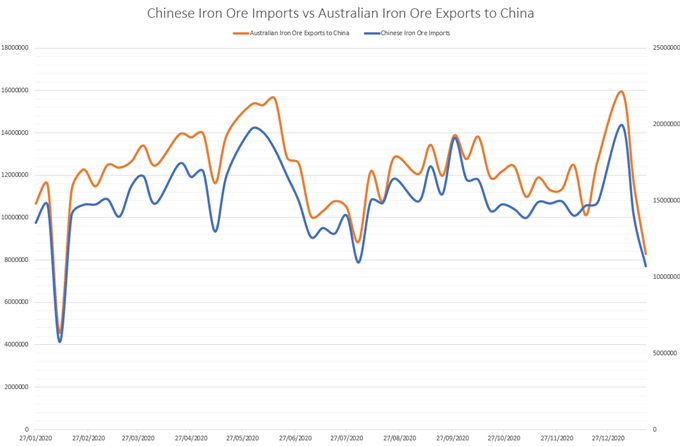 Source – Bloomberg
Nevertheless, with Chinese New Year celebrations just around the corner there is significant risk that domestic travel could lead to an exponential spread of the virus.
Indeed, local health authorities have warned that the latest strain has been found to "last longer, spread wider, and transmit faster, with a higher percentage of elderly and rural patients".
With that in mind, traders should keep a watchful eye on ongoing health developments. A notable pick up in infection numbers probably results in the imposition of tighter restrictions and may ultimately limit overall iron ore demand in the near term.
ROBUST ECONOMIC RECOVERY TO UNDERPIN AUD
From a local standpoint, the Australian economy has continued to rebound robustly, as the island nation's successful suppression of Covid-19 has allowed a return to a level of normality.
Disclosure: See the full disclosure for DailyFX here.