AUD/USD Weekly Forecast: RBA's Tightening Cycle To End
Ups And Downs Of AUD/USD
On Monday, Assistant Governor of the Reserve Bank of Australia (RBA), Christopher Kent, stated that financial conditions would be one of several variables taken into consideration by the Board at its next policy meeting in April.
Markets are betting, however, that the RBA's 10-month tightening campaign is largely done due to the stresses in the global banking industry. This contributed to the pair's bearish close to the week.
The Federal Reserve raised rates on Wednesday for the ninth time in a row, this time by a quarter of a percentage point.
As they gathered this week to debate policy, Federal Reserve officials said on Friday that there was little evidence that financial stress was worsening. This enabled them to keep trying to lower inflation by raising interest rates.
On the statistical front, a decrease in US unemployment claims was another indication of the tight labor market. While core durable goods orders decreased, the housing sector's data were generally positive.
Next Week's Key Events For AUD/USD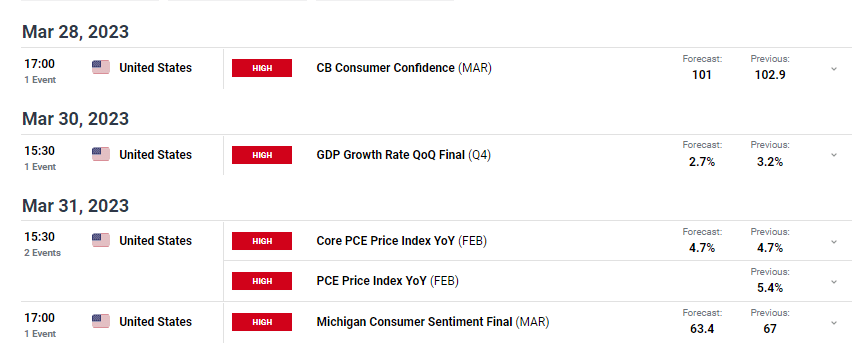 Inflation data from the US next week will likely influence the Fed's next policy move. Investors will also pay attention to the GDP report expected to show slower growth in US economic activity in Q4.
AUD/USD Weekly Technical Forecast: Price Respecting The 22-SMA Resistance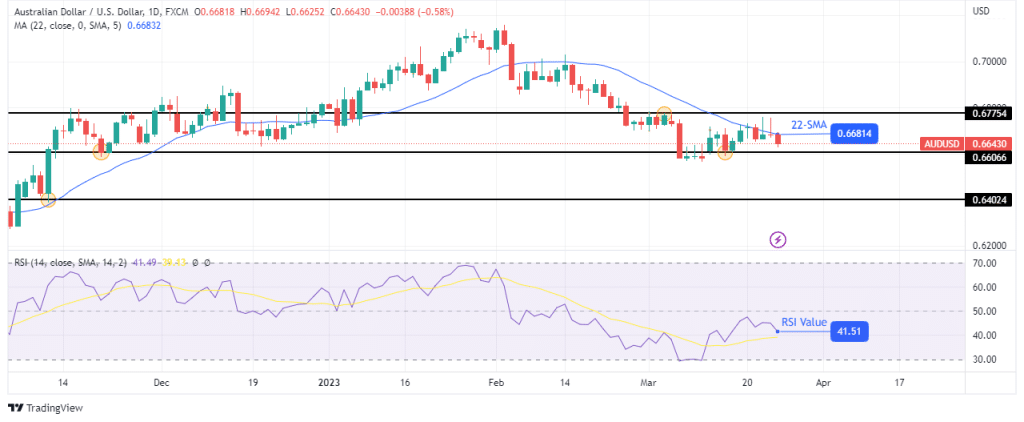 The daily chart shows AUD/USD in a downtrend, with the price trading below the 22-SMA and the RSI below 50. The bearish move found support at the 0.6606 level, where bulls returned for a retracement.
The price pulled back to retest the 22-SMA and found strong resistance. This is yet another sign that the bearish trend is strong. The price is bouncing lower from the SMA and will likely take out the 0.6606 support in the coming week.
A break below this support would see the price fall to the next support at 0.6402. However, if the price breaks above the 22-SMA in the coming week, we could see a shift in sentiment that would likely lead to a break above the 0.6775 resistance.
---
More By This Author:
EUR/USD Price Tumbles As Dollar Soars, Focus On Key Data
Gold Price Halts Rally By $2,000, Focus Shifts To FOMC
GBP/USD Weekly Forecast: Deep Banking Crisis to Halt Gains