5 Israeli Stocks To Consider For Passover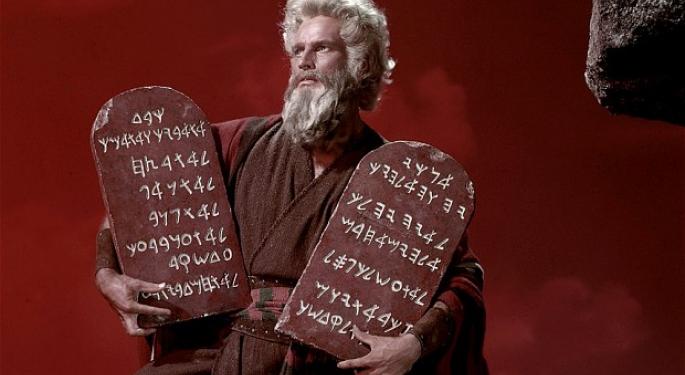 Photo of Charlton Heston as Moses courtesy Paramount Pictures.
Back in the days of the Exodus, investment opportunities in the Holy Land were limited to a pair of options. One choice was framed by draconian terms of service that were literally chiseled in stone and regulated by an often-severe oversight authority, although the return on investment was considered heavenly.
The other choice was a flashier vehicle that provided the unlikely combination of two important commodities — gold and cattle — into an eccentric concept that, in retrospect, probably should have stayed on the drawing board. In today's Israel, investment opportunities are far more diverse and, admittedly, more secularized than the choices available to Moses and his friends.
But in view of the upcoming Passover holiday, perhaps we can do a mash-up of investing reviews and the traditional Seder question and ask, "Why are these stocks different from all other stocks?" The answer is that these stocks belong to some of the most intriguing and successful Israeli enterprises.
Bank Hapoalim BM (BKHYY)
This financial institution is one of Israel's oldest and largest, founded in 1921 and with $167.9 billion in assets. Like other banks around the world, Bank Hapoalim has found itself dealing with ongoing shifts in the financial service world coupled with the challenge of the COVID-19 pandemic.
On the downside, the bank closed 26 branches last year, representing 12.1% of its network, and reduced its workforce by 400 employees. The bank also endured a public relations black-eye by agreeing to an $874 million settlement with the U.S. government to resolve charges that it helped U.S. taxpayers hide more than $7.6 billion in offshore accounts.
On the positive side, the bank saw its retail deposits increase 17.1% year-over-year in 2020, while its $622 million net profit represented a 14.3% year-over-year gain.
The bank also responded quickly to the changing Middle East environment by establishing platforms for Israeli companies to do business in the United Arab Emirates and Bahrain. Last month, it entered into the digital wallet sphere with Bit wallet, a payment platform open to customers of all banks, and Bitcard, a credit card.
© 2021 Benzinga.com. Benzinga does not provide investment advice. All rights reserved.