People Are Snapping Up Virtual Land Like Hotcakes -- And Now There's A Fund
We assure you, this is real. This week, contemporary artist Krista Kim recently sold an NFT-minted digital house, called "Mars House," for 288 ether - valued at more than $500,000 based on Friday's trading price.
"Right now, a lot of the [NFT] art that's currently available on platforms, it's a very limited parameter of how you can present the art," said Kim in a Wednesday CNBC interview. "It's presented, basically, as a digital file, a beautiful drawing or video on your screen, but my intention was to look beyond that."
"For me, I actually foresee that we will be living in an augmented reality lifestyle within a very short period," Kim added, saying it could happen in "a couple years."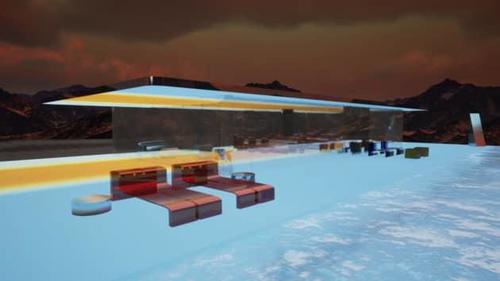 A view of Mars House, a 3D NFT creation from Krista Kim Studios that was recently sold.
The new owner of Mars House will be able to upload the property to various metaverses.
In February, meanwhile, eight lots of virtual real estate sold for a combined $1.5 million on gaming platform Axie Infinity, according to NonFungible.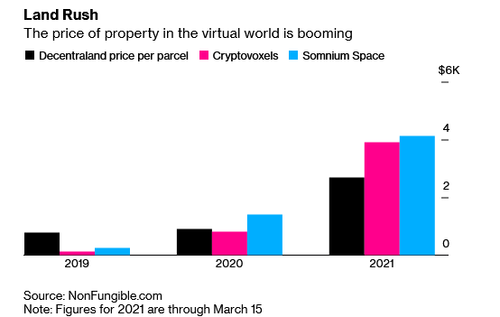 "There is obviously some fear-of-missing-out phenomenon behind this," says NonFungible COO, Gauther Zuppinger, in an email to Bloomberg. "The best, rarest places are almost all purchased. The secondary market shows that the first buyers sell their assets for way more than the initial price."
Each land parcel is a non-fungible token, or NFT -- a unique asset that can't be forged or replicated, just like physical land in the real world.

The value of online real estate rises as more people buy digital art or other collectibles and need a place to showcase them, according to Zuppinger. Many artists and designers also are turning to the virtual world to host what they create, as consumers spend more time there, Yorio said.
And now, there's a functional market in which prices have more than quadrupled in a matter of months for well-trafficked space.
Disclaimer: Copyright ©2009-2021 ZeroHedge.com/ABC Media, LTD; All Rights Reserved. Zero Hedge is intended for Mature Audiences. Familiarize yourself with our legal and use policies every time ...
more