Everyone On Wall Street Thinks Everyone Else On Wall Street Is Long Bitcoin Again... But Almost None Are
Once upon a time the Bank of America Fund Manager Survey served a useful indicator of what finance professionals did and thought. Then, over the years, it became a survey which revealed what the prevailing consensus narrative was- if not what respondents actually did - as survey participants merely answered question in line with what they thought was the right answer. Unfortunately, since then it has devolved further to the point where it is mostly noise with very little signal.
Take the latest Fund Manager Survey (FMS) released today by BofA's Michael Hartnett, which took place between May 7 and 13, and polled 2216 participants with $625bn AUM. While we will have a more indepth take on the findings of the latest FMS, one thing stuck out: the question what is "the most crowded trade" where there was a material change.
After several months when the dominant answer to this question was "Long Tech", the prevailing response was "Long Bitcoin"...
(Click on image to enlarge)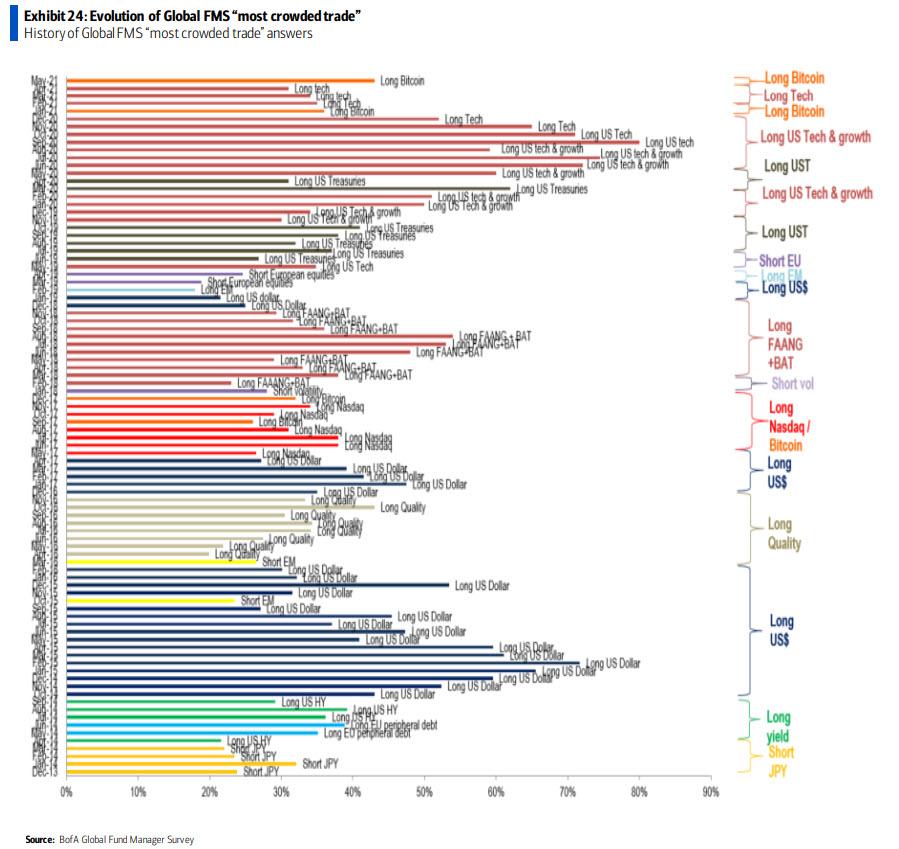 ... with 43% of responses, while Long Tech dropped to second spot with 21% (long ESG was 3rd with 20%).
(Click on image to enlarge)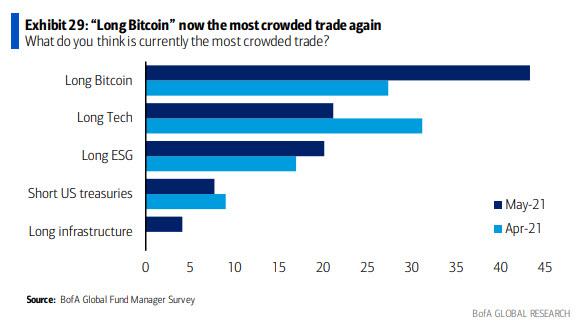 Why was this response odd? Well, a few reasons: while Wall Street is not limited in its exposure to virtually any other asset class, when it comes to bitcoin almost no firms are permitted to own bitcoin outright for regulatory reasons, and while few specialized firms are long bitcoin futures - which remain highly illiquid - the GBTC, or Grayscale Bitcoin Trust (not an ETF but rather an open-ended grantor trust) is widely viewed and used as the only vehicle to express a bullish (or bearish) position in bitcoin since the SEC has yet to greenlight a bitcoin ETF.
Meanwhile, on the buyside, with a handful of notable exceptions such as billionaire Mike Novogratz' Galaxy Digital who has been involved in the space for years, or Michael Green One River (which in late 2020 famously disclosed a major Bitcoin and Ethereum stake to the shock of his peers), most other major funds are either on the sidelines or only now starting to tiptoe into the crypto space (like Dan Loeb, Steve Cohen, and soon, Ray Dalio).
Disclosure: Copyright ©2009-2021 ZeroHedge.com/ABC Media, LTD; All Rights Reserved. Zero Hedge is intended for Mature Audiences. Familiarize yourself with our legal and use policies ...
more