Ethereum Soars To Record High Above $3,800 As JPMorgan Lays Out 6 Reasons Why Explosive Move Will Continue
Back on April 25, we quoted a prominent billionaire VC who said that "Ethereum is the world's most interesting trade right now" and we predicted that "Ethereum Is About To Make An Epic Breakout Over Bitcoin." Two weeks later, and one report from FundStrat's Tom Lee putting out a $10,500 price target on Ethereum (and $100,000 on bitcoin).
Ethereum has returned 66% to bitcoin's paltry 16%, a 4x outperformance which even to the most jaded traders consider an "epic breakout."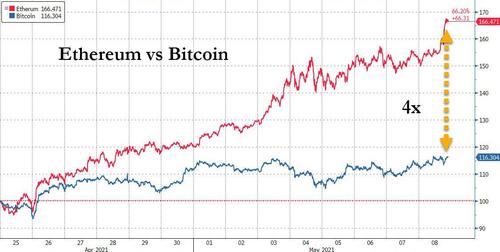 More importantly, as bitcoin has languished in the $50-$60K range over the past month, ethereum has nearly doubled and moments ago traded at an all time high above $3,800.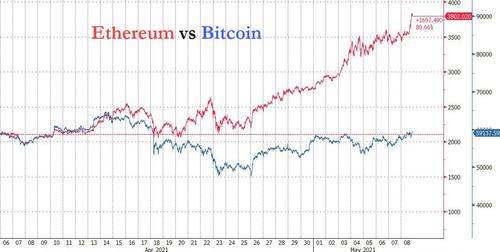 Meanwhile, the ratio of ETH/BTC finally broke out above its recent highs.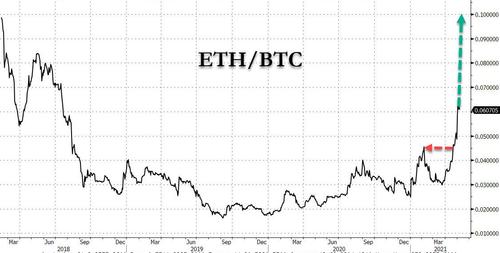 As we said two weeks ago "once the recent high is taken out, there is much more room to go... In fact, should ETHBTC hit its historical high, Ethereum would be above $5,000." We are now just $1,200 away which at the current pace of ascent, may be reached some time next week.
While there are many reasons for the renewed investor fascination in Ethereum, including the launch of four ethereum ETFs, the application by VanEck for the first US Ethereum ETF, the exploding demand for NFTs, interest in DeFi and generally the realization that while Bitcoin is just a token, Ethereum is an entire digital platform (not to mention the most obvious one: relentless upside momentum which in the case of bitcoin, appears to have tapered for now).
It's why two days after we said to brace for an "epic" ethereum breakout, JPMorgan published a note on April 27 from one of its most respected rates and fixed income strategists, Joshua Young, explaining "why ETH is outperforming".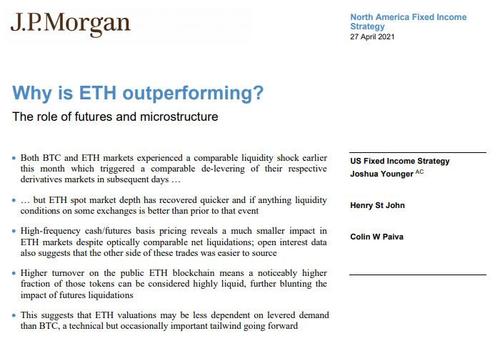 It gave yet another reason for ethereum's stunning outperformance compared to bitcoin: ETH valuations may be less dependent on levered demand than BTC, a technical but occasionally important tailwind going forward.
Disclosure: Copyright ©2009-2021 ZeroHedge.com/ABC Media, LTD; All Rights Reserved. Zero Hedge is intended for Mature Audiences. Familiarize yourself with our legal and use policies ...
more