Ethereum Reaches Record High $500 Billion Market Cap, Now Bigger Than JPMorgan
Dip-buyers have charged in after Monday's flash-crash in cryptos, sending Ethereum to a new record high near $4400...
(Click on image to enlarge)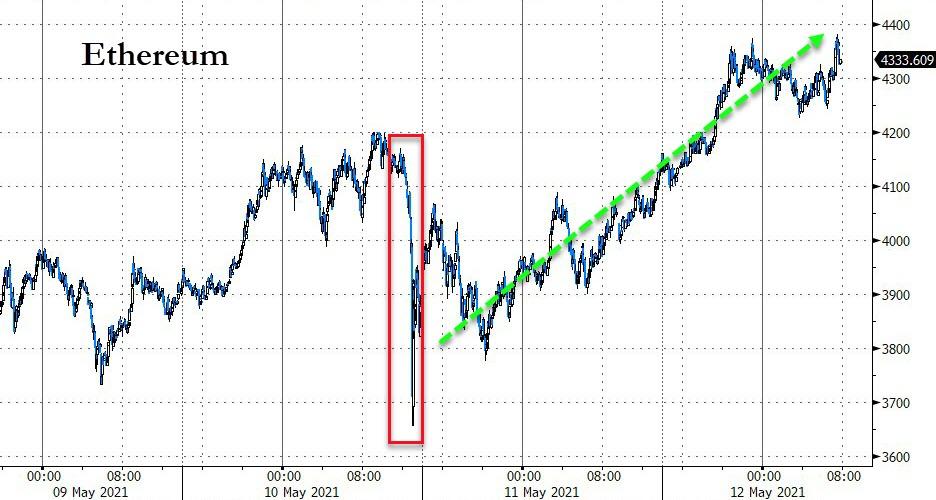 Source: Bloomberg
That has pushed Ethereum's market cap above $500 billion, now larger than JPMorgan...
(Click on image to enlarge)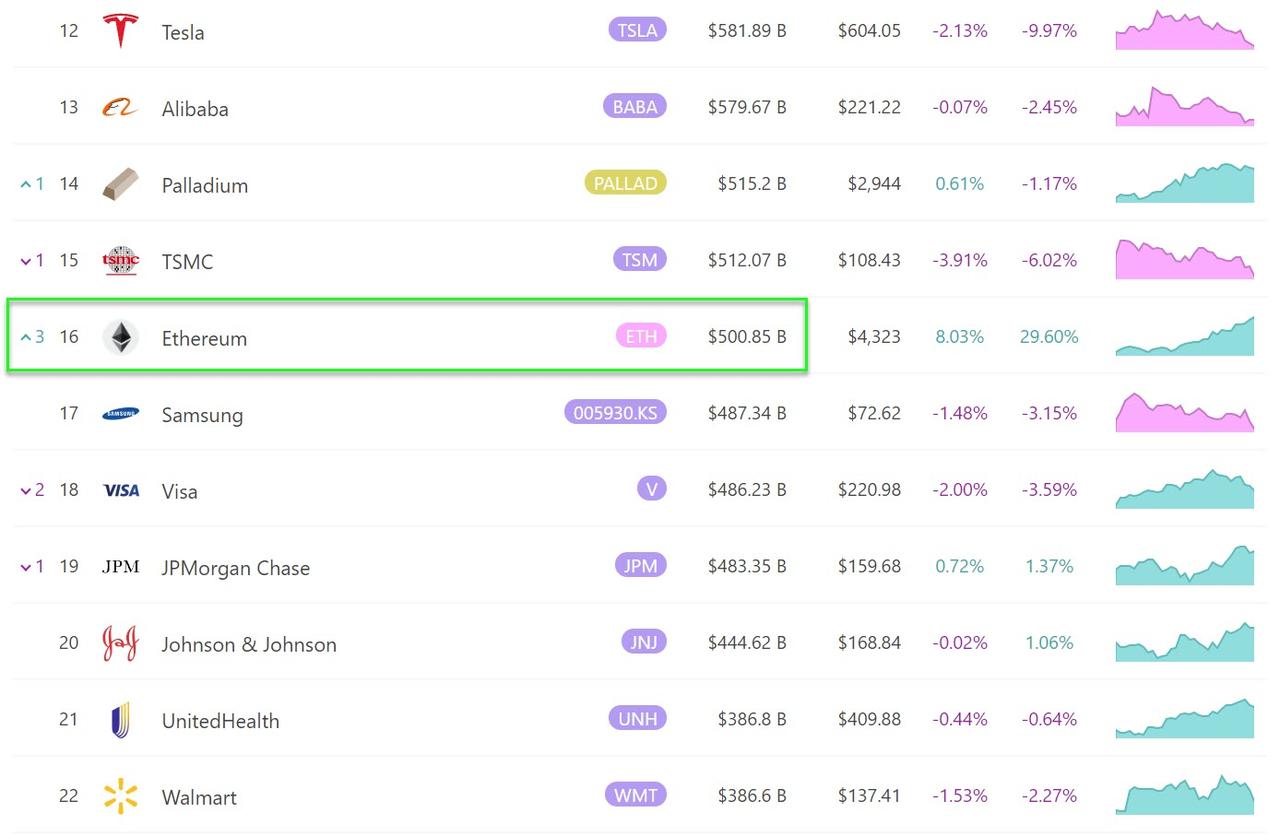 As CoinTelegraph reports, Ether is the second cryptocurrency to hit a $500-billion market cap after Bitcoin. Ether took significantly less time to become a half-a-trillion-dollar asset.
Launched in January 2009, Bitcoin took nearly 12 years to reach a $500-billion market capitalization in December 2020 at a price above $27,000. As the first version of an Ethereum cryptocurrency protocol was launched in July 2015, Ether is now five years and 10 months old.
As previously reported by Cointelegraph, Ethereum co-founder Vitalik Buterin became a billionaire after Ether's price rose above $3,000 on May 3. Megan Kaspar, a crypto analyst and co-founder of digital asset investment firm Magnetic, believes that Ether is now on track to hit a price target between $8,000 and $10,000 by late 2021. The analyst previously reportedly predicted that ETH would hit $3,400 when the cryptocurrency was trading about $1,200.
Bitcoin is lower on the day, driving the ETH/BTC ratio to its highest since June 2018...
(Click on image to enlarge)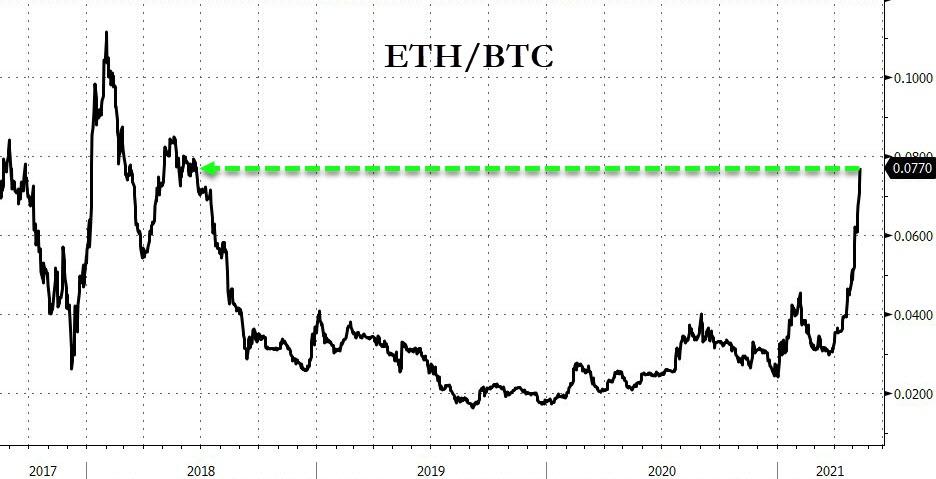 Source: Bloomberg
It is also worth noting the sudden appearance of "Internet Computer" which was released Monday and is now in the Top 10 cryptocurrencies by market cap...
(Click on image to enlarge)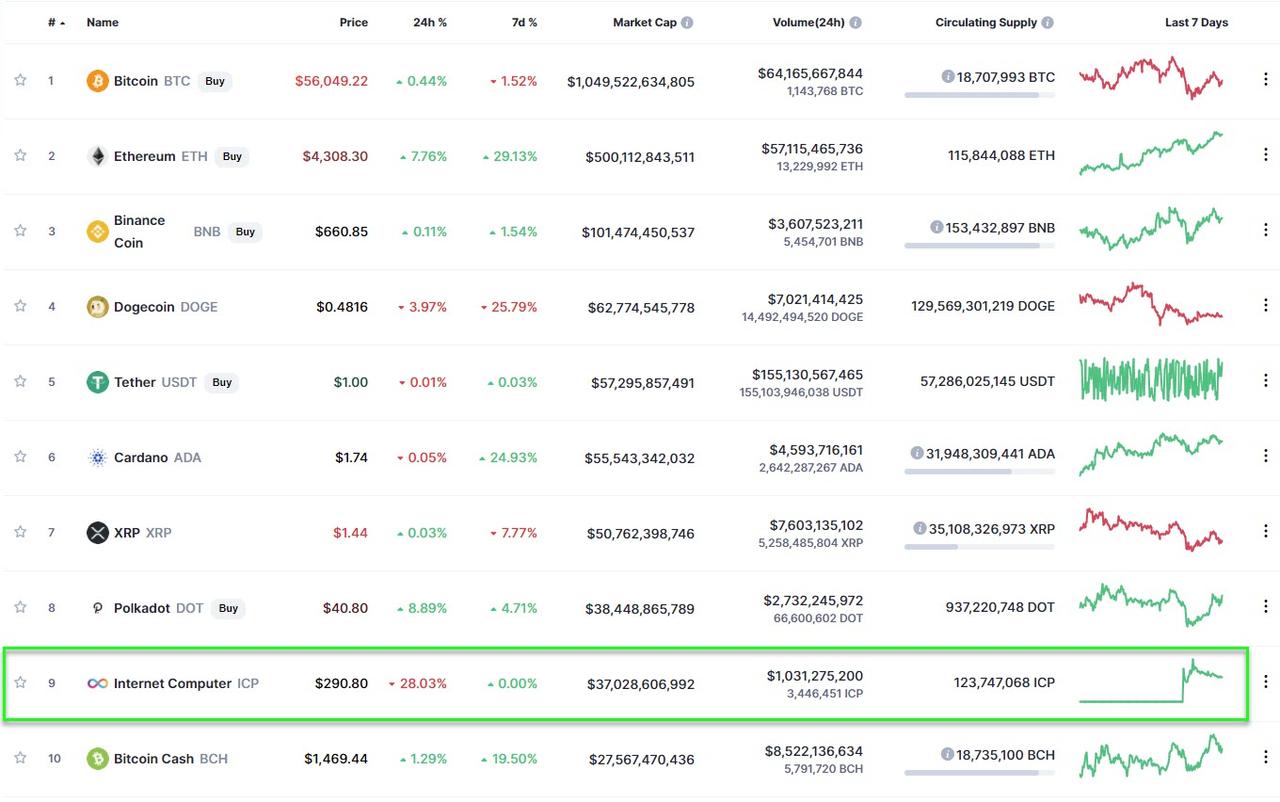 A quick look into the token's issuing authority, Internet Computer, described it as a "blockchain-based cloud computing project" that proposes to build an open, public network. But the biggest takeaway for traders was the involvement of high-profile institutional players in the project. As CoinTelegraph reports, in retrospect, Dfinity aims to develop a blockchain-based infrastructure, one in which the internet itself supports software applications instead of cloud hosting providers.
Disclosure: Copyright ©2009-2021 ZeroHedge.com/ABC Media, LTD; All Rights Reserved. Zero Hedge is intended for Mature Audiences. Familiarize yourself with our legal and use policies ...
more