Will 2021 Be The Year Of The Bitcoin ETF?
As Bitcoin (BITCOMP) continues its move through $29,000 this morning, as we reported earlier today, it looks as though hope for a Bitcoin ETF may not be completely lost heading into 2021.
For the last couple of years, the SEC has killed off any ideas for ETFs that track crypto prices - but VanEck is trying to revive the idea heading into the new year. According to a filing on Wednesday, VanEck is now attempting to launch its own ETF tracking Bitcoin, Bloomberg reported.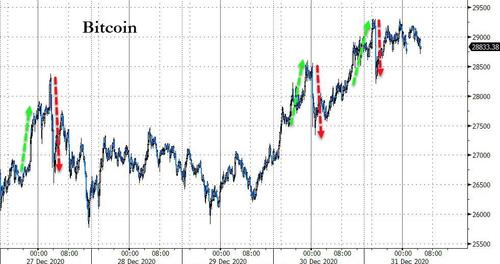 The proposed instrument, The VanEck Bitcoin Trust, would be based off of the performance of the MVIS CryptoCompare Bitcoin Benchmark Rate.
Nate Geraci, president of the ETF Store, an investment advisory firm, thinks VanEck has its work cut out for it. He said: "All indications from the SEC are that a bitcoin ETF still faces an uphill battle. That VanEck has the confidence to file for a Bitcoin ETF might indicate some shifting viewpoints within the SEC. Clearly, a key to watch as this drama continues unfolding is who President Biden taps as SEC chair."
Todd Rosenbluth, director of ETF research for CFRA Research, said: "By filing now, it will restart the clock for a review when there will be new SEC membership and leadership. However, I think the SEC has made it clear they have concerns that need to be overcome."
Everett Millman, finance expert with Gainesville Coins, said the ETF "could be taken as bullish for Bitcoin because it does broaden the universe of investors who could be aware of Bitcoin."'
And regardless of whether you are a Bitcoin bear or bull, one has to admit that more eyes on the cryptocurrency is one surefire way to stoke a bid and a possible price move higher. Bitcoin's rise could be a double-edged sword, however. While it may help get more attention to ideas like VanEck's ETF, it may also invite more scrutiny and regulation to the crypto world.
We noted this morning that while crypto may remain "rat poison" to some, CoinTelegraph's William Suberg notes that bitcoin has posted its highest transaction volume since early 2018 as data points to more and more investors entering the market. Figures from on-chain analytics resource Digital Assets Data highlights December 2020 as already sparking Bitcoin's second-largest transaction volumes.
Disclaimer: Copyright ©2009-2021 ZeroHedge.com/ABC Media, LTD; All Rights Reserved. Zero Hedge is intended for Mature Audiences. Familiarize yourself with our legal and use policies every time ...
more