Vanguard Mid-Cap ETF: In For A Strong 2020
If you want to outperform the market, I think you have to find sectors or investments that have been under-owned and underperformed for several years. The most likely way to beat the market is to invest smartly in things that will have a reversion back to the mean. One glaring sector I have found in my research that needs to be highly owned is the mid-cap sector, and a great way to get invested in it is the Vanguard Mid-Cap ETF (VO). For one, the expense ratio is especially attractive for this fund – sitting at 0.04%. It's not free (yet), but it is very close.
As I mentioned in the Lead-Lag Report last week, one sector I think will outperform this year is financials. This will be on the back of the Treasury yield rising throughout 2020 as we get back to some synchronized global growth, and rising yields help the bottom lines of financials. That is one reason to get invested in the Mid-Cap space – the VO itself holds about 21.6% financials, according to the Vanguard website. The regional banks that are inside of this investment are set to take off in 2020, as I think that there is also the potential for the regionals to start to consolidate, much like BB&T and SunTrust announcement last year. The rest of the makeup of VO is attractive as well, with 16.4% industrials, 15.9% technology, and 11.5% consumer services. This is a well-diversified holding, ready to break out further.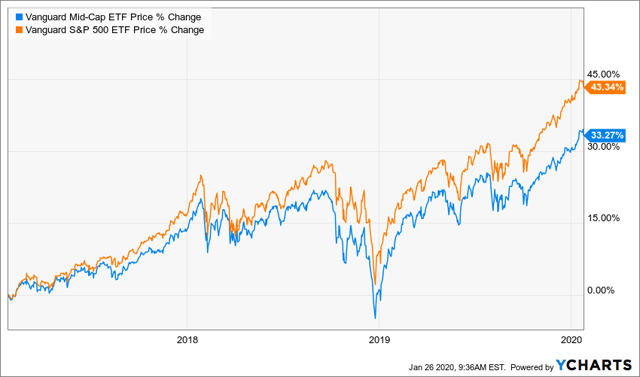 In the last three years, the mid-cap space has underperformed compared to the overall Vanguard S&P 500 index (VOO) to the tune of about 10% (see chart below). I think that VO plays catch-up in 2020, especially with business confidence rising early this year. One reason is that the risk-return characteristic we are used to – higher risk, higher return – has not held for the mid-cap space for so long. The holdings are inherently riskier, given the size of the holdings. You would think that in a bull market like we have seen that they would outperform their large counterparts.
Disclosure: I have no positions in any stocks mentioned, and no plans to initiate any positions within the next 72 hours.
Disclosure: This writing is for informational purposes only and does not ...
more