Vacation Trades: Option Strategies For When You Are Away
Suppose you are about to go on vacation and cannot check on your positions. What are the best option trades for this situation?
Technologically speaking, you could; but you are too busy sipping Mai Tai's at the beach.
You could move all positions to cash. But will not profit on the upside.
Let's see what strategies we can put on where we set and forget for at least three weeks — where it will still be okay if the market crashes right after we get onto our airplane.
Suppose an investor places the trade at the market close on Friday, February 21, 2020, and takes a three week vacation to return to his desk Monday, March 16, to find that the market had dropped about 28%.
(If the investor had gone on a more extended vacation, the market fell further than that.)
Here is the S&P500 ETF (SPY) chart showing 15 candles in between the start and end of the trade.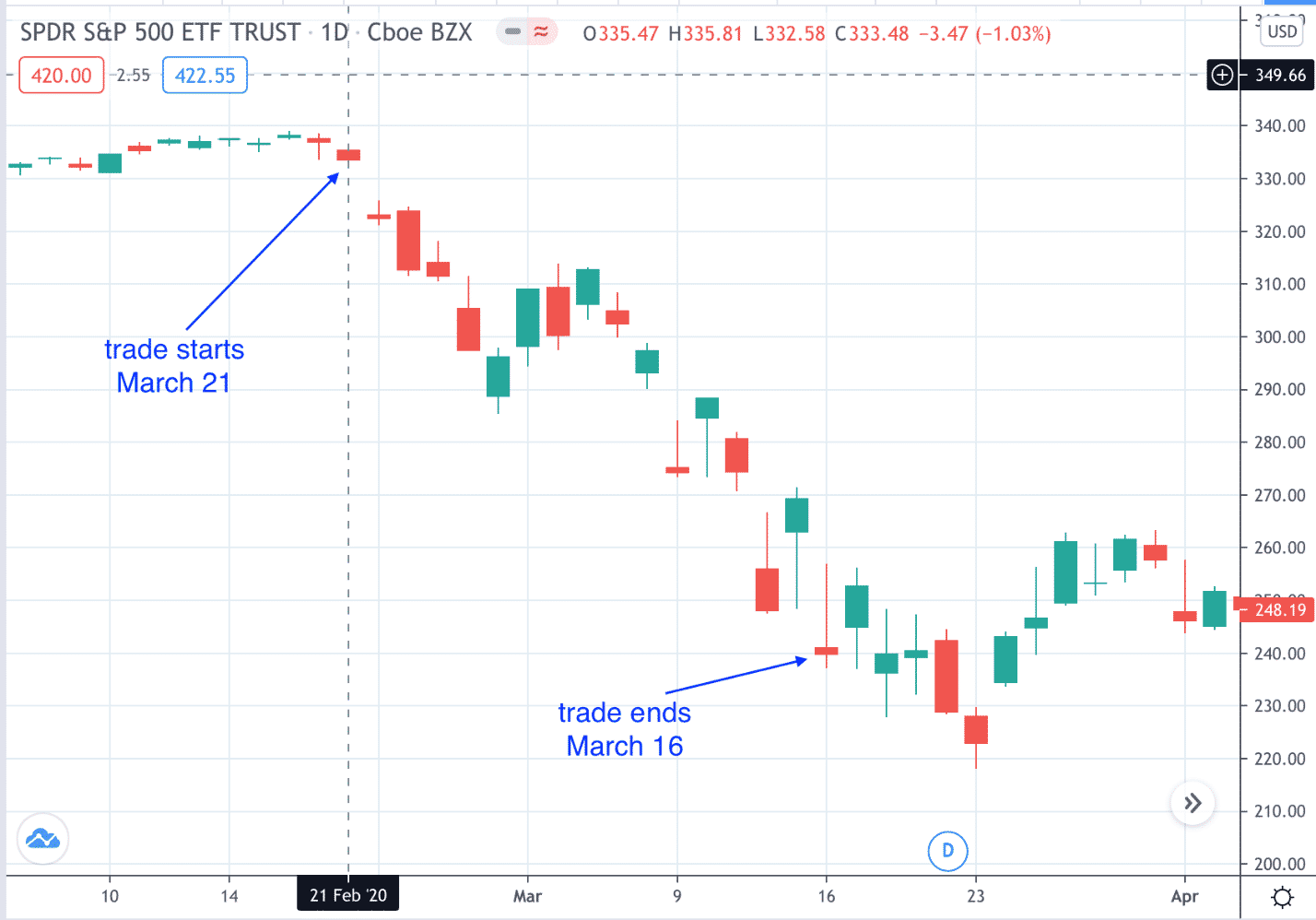 While this market decline is a rare scenario, we want to see what options strategies can withstand such a black swan event without adjusting.
After seeing the chart, you might say that a long put would be successful. And you would be right.
But we are looking at the scenario where the price goes against us, and we are not there to adjust.
Contents
Iron Condors? Nope
A vacation trade would be a defined-risk trade, no doubt.
Let's start with the popular Iron Condor.
Here is a 42 days-to-expiration (DTE) Iron Condor with short strikes at 15 delta:
Date: February 21, 2020
Price: SPY @ $333.45
Buy five Apr 3 SPY $305 put @ $1.52
Sell five Apr 3 SPY $310 put @ $1.97
Sell five Apr 3 SPY $347.5 call @ $0.60
Buy five Apr 3 SPY $352.5 call @ $0.19
Max Gain: $430
Max Loss: $2070
Risk to Reward: 4.8
P&L on March 16: –$2062
Percent loss relative to max risk: -99.6%
The put spread has been completely breached, and the trade is nearly at the maximum loss. Bull put credit spreads at the 10 Deltas would have been breached as well.
So those are not going to work as vacation trades.
Long-term Iron Condors? Not even