US Stocks Continue To Lead Major Asset Classes In 2023
American shares eased last week, but the US stock market remains the clear leader for the major asset classes this year, based on a set of proxy ETFs through Friday's close (July 7).
Vanguard Total US Stock Market Index Fund (VTI) fell 1.0% last week. Despite the modest pullback, the ETF remains close to a 15-month high following a rally off the October bottom.
Most of the primary slices of global markets are posting gains so far in 2023, including foreign stocks and bonds. The main downside outliers: commodities (GCC) and real estate ex-US (VNQI).
Markets and the appetite for risk will be stress-tested anew this week when new US consumer inflation data is published on Wednesday, July 12. Economists are looking for pricing pressure to ease for the 1-year change, although the downturn for core inflation will be modest vs. an expected hefty slide for the headline Consumer Price Index (CPI), based on Econoday.com's consensus point forecasts.
CapitalSpectator.com's ensemble model for estimating the path ahead for core CPI, which excludes food and energy, also sees softer pricing pressure ahead, but the decline is projected to remain gradual, according to the point forecasts and leave this widely-followed measure of pricing pressure well above the Fed's 2% target for the foreseeable future.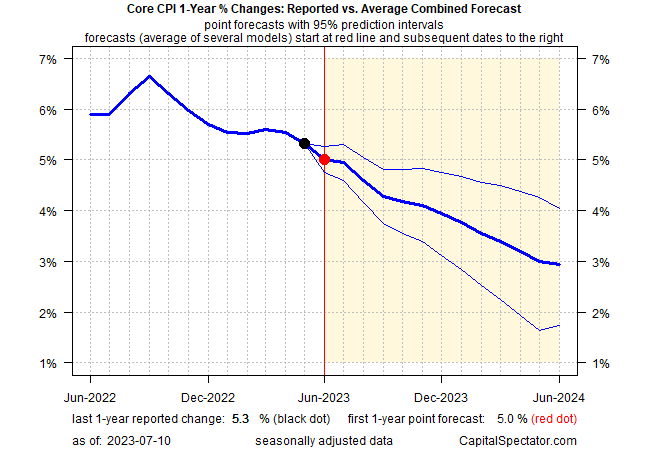 Meanwhile, the Fed is expected to lift interest rates by 1/4-point at the next FOMC meeting, based on Fed funds futures. Beyond that, the market is pricing in modest odds for an extended pause, perhaps signaling the end of tighter policy for the cycle. This week's CPI data will be closely read for deciding if that outlook appears plausible.
By some accounts, the inflation-has-peaked forecast suggests US bonds are looking attractively priced after more than a year of flat to negative performances. Although Vanguard Total US Bond Market Index Fund (BND) is up 1.0% this year, the ETF is still a long way from recovering from 2022's steep haircut.
Better days for bonds may be coming, or so some analysts predict. One factor is the rise in current yields, which provides a stronger incentive to expect stronger performances for fixed income.
"Right now you're getting good income out of fixed income," says Katie Nixon, chief investment officer for wealth management at Northern Trust. Rates are not only attractive on an absolute level, but also on a "real" basis in terms of comparing yields to the outlook for inflation in the years ahead, she tells Morningstar.com.
This week's CPI report will offer an early reality check on that reasoning.
---
More By This Author:
Total Return Forecasts: Major Asset Classes
Are Red-Hot Factor Funds Vulnerable To Ongoing Rate Hikes?
US Q2 GDP Nowcast Strengthens Ahead Of Official Report