Top ETFS: Trading Opportunities For Next Week
A security pattern traces the distinct movements of security prices that, once recognized, helps traders to make informed trading decisions. These patterns are identified by their vital geometrical elements, which are formed by changing security prices. Let's look at some ETF opportunities by analyzing these patterns.
Buy Signal for RZV (Cup-and-Handle)
The Cup-and-Handle (sometimes called Cup-and-Holder) pattern is formed when the price of a security initially declines and then rises to form a "U"­ like rounded shape (1, 2, 3, also known as the Cup). Once it forms the right lip, it is characterized by short, relatively straight price decline (from 3 to 4) forming the handle.
The declining handle potentially forms due to mounting selling pressure created when the security tests its high at the right cup lip. After the sellers give up, the security has the potential to break out to the upside.
Trade Idea
Buy near the Breakout (Entry) price – 94,40$.
Sell at the Target (Exit) price – 97,92$.
Buy Signals for GUNR , FTGC, DBC, & GLD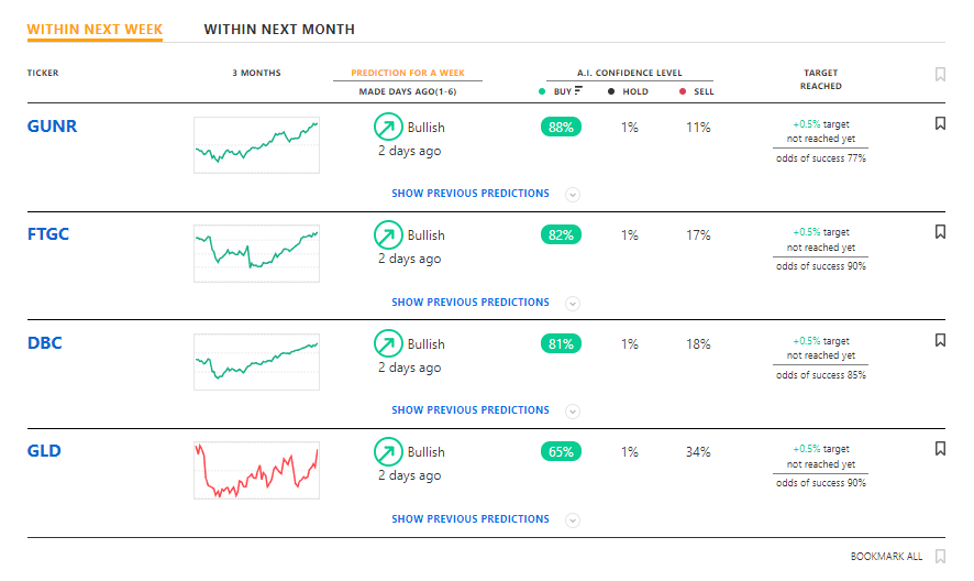 Trade Idea:
Buy at the opening of the stock market on Monday if the price is seen as appealing.
Sell after the price has risen by 0,5% from the closing price on Friday, or at the end of the trading week if the target is not reached.
Buy Signal for VTV
Trade Idea:
Buy VTV at the current market price if seen as appealing.
Sell VTV after receiving the "Sell" recommendation from trusted analyses.