The 6 Stock Dividend Portfolio To Beat Your ETF
I know a lot of income investors own shares of the iShares Mortgage Real Estate Capped ETF (NYSE: REM) as a stock market investment that pays a high (10%+) current dividend yield. The problem with REM is that it holds a lot of the highly leveraged, dangerous to your wealth, residential mortgage-backed securities, or as they are regularly referred to – MBS REITs. The REM share price has been in a year-long downward trend, barely offset by the dividends for a small positive return. A better option for the high-income focused investor is to build a portfolio from the financially strongest stocks out of the REM holdings list.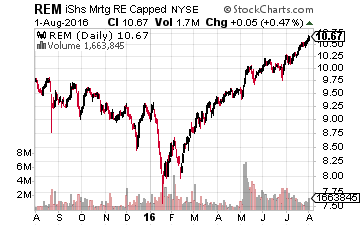 According to the tax rules that govern their operation, a REIT can own real estate property or participate in the financing of real estate assets. REITs that focus on owning real estate are referred to as equity REITs, while those that focus on the mortgage side of real estate are called finance REITs. The finance REIT side of the REIT universe typically carries much higher dividend yields, which are very attractive to income-focused investors. For comparison, REM currently yields 10.7%, and the largest equity REIT ETF, the Vanguard REIT Index Fund (NYSE: VNQ), yields 3.8%.
However, a significant number of finance REITs employ a business model that involves owning government agency guaranteed MBS and leveraging their MBS portfolios to turn the 3% bond yields paid by these safe MBS into the cash flow to pay a double-digit dividend yield. Changing interest rates at either the short or long end of the yield curve will eat into one of these company's cash flow generation ability. If you look at their histories, most are now paying dividends that are much lower than just a few years ago. For example, just last week one of the larger and more popular agency MBS REITs, American Capital Agency Corp. (Nasdaq: AGNC) reduced its dividend by 10%. The new rate is just 43% the size of the dividend AGNC investors were earning in 2012. As a fund that owns a portfolio of 40 different finance REITs, the REM dividend has shrunk by an average 4.1% per year over the last five years. The result is a share price that has also dropped, leaving an average annual return of 5.5%, even though the dividend yield was well above 10% for the entire period. Factor in taxes and the iShares website reports an annual return for REM of 0.97%.
Disclosure: There are currently over twenty of these stocks to choose from in my more