Solar Stocks Are Hot
Solar stocks are flying – especially those that make and sell inverters, like Enphase (ENPH) and SolarEdge (SEDG).
Quick refresher: inverters are devices that try convert power from DC (solar panels) to AC (what your home uses). There are lots of inverters out there, with slightly different technologies, but all are meant to maximize the AC power out of your DC photovoltaic panels.
This market has just gone crazy this year – out of the blue. It's a grassroots demand scenario that has completely taken the Market by surprise.
How do I know this?
Look at the gaps in the stock charts of both ENPH and SEDG – the Market had not priced anywhere close to the kind of growth these two inverter market leaders are going through right now.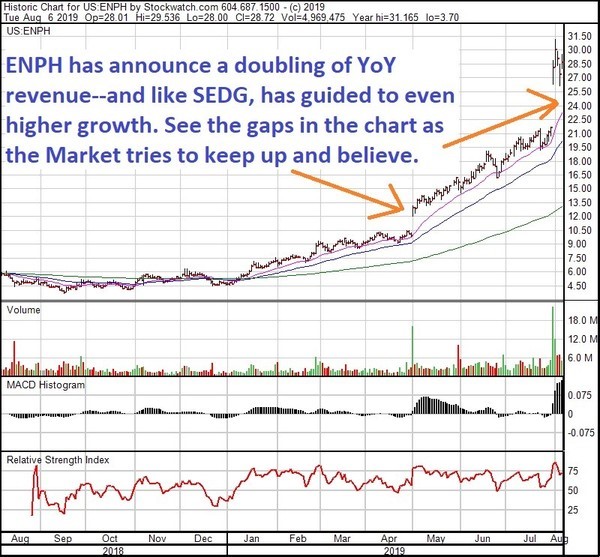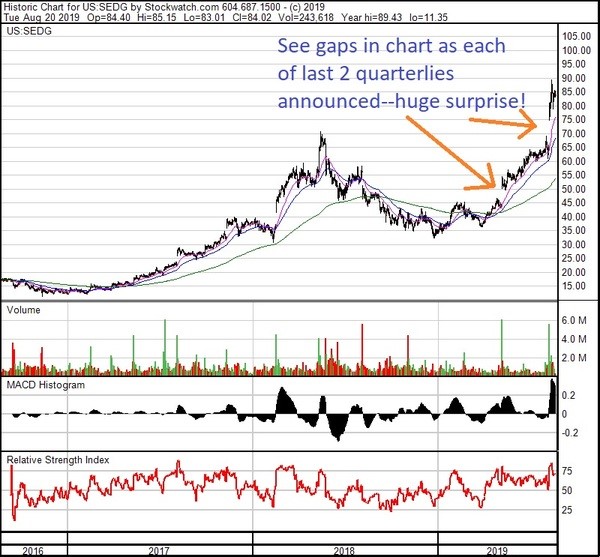 This is happening despite trade wars and despite Chinese tariffs (SEDG is opening a second plant in Vietnam now; ENPH is opening one in Mexico).
Sell side research I'm reading says component parts pricing has come down a lot… making solar much more economic.There does appear to be areas where solar can compete against greenfield coal baseload power or against natgas peaker plants (expensive back-up facilities that are only used during peak power times during the day).
SEDG CEO Guy Sella said on the Q2 conference call that nobody buys solar for subsidies anymore. I would argue that's not quite true, as analysts are suggesting the end of subsidies is now actually pulling forward demand.
But the volume of units sold and the stock charts say he is mostly right.
SEDG is a big story on both sides of the Atlantic, in both Europe and the USA – Europe was 48% of business and the USA was 41%. The ROW – Rest of World – was 11%.
The Market is right to love this story – SEDG – as the growth is phenomenal, it's organic, it's not just about the USA, it's both residential and commercial… and the balance sheet is pristine.
Disclaimer: Under no circumstances should any material in this site be construed as an ...
more