QQQ In A Correction: Buy The Dip
The Invesco QQQ ETF (QQQ) has crushed the market over the middle term, gaining over 25.52% on a year-to-date basis and widely outperforming the 2.73% produced by SPDR S&P 500 Trust ETF (SPY) in the same period.
(Click on image to enlarge)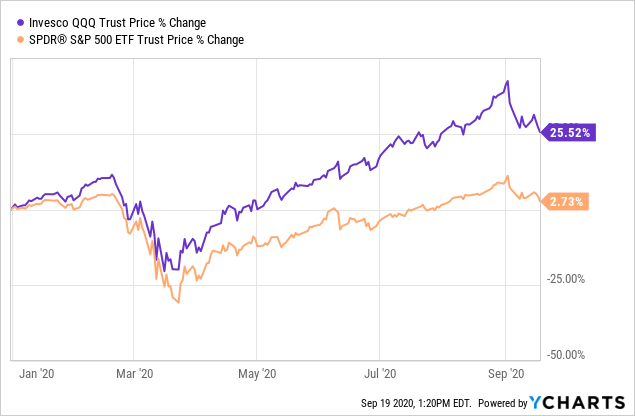 Data by YCharts
However, the growth-oriented QQQ has been under considerable pressure in recent days, declining by over 12% from its highs of September 2 and breaking below critical support levels in a short period of time.
As we can see in the chart below, the 21-day exponential moving average - in purple - has been acting as support through most of the recent rally since April, and this support is now broken.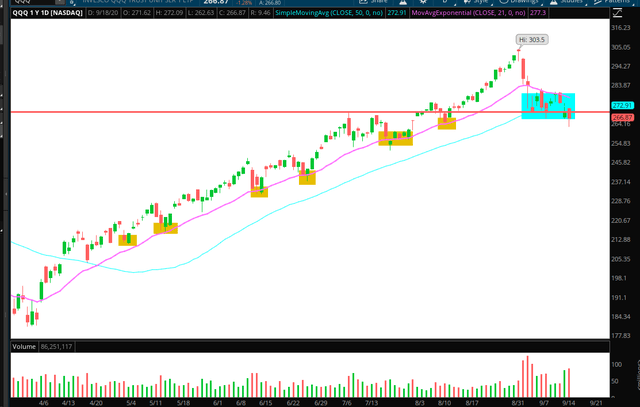 Source: TOS
In this context, it makes sense for investors to wonder if this is just a short-term correction in QQQ or the beginning of a new bear market that is going to take the ETF down by 25%-30% or even more from its highs.
We can never know for sure, the future is always a matter of probabilities as opposed to certainties and there are no guarantees when investing. However, the evidence currently available is more indicative of a short-term correction than a full-blown bear market for QQQ. At these prices, remaining patient and even buying on weakness seems like a better idea than rushing to sell.
A Much Needed Reset
QQQ is oriented towards growth stocks, with a large participation of technology in the portfolio. If we take a look under the hood, it is easy to see the mega-cap names, such as Apple (AAPL), Amazon (AMZN), Microsoft (MSFT), Facebook (FB), and Alphabet (GOOG) (GOOGL), account for a large share of overall assets.
(Click on image to enlarge)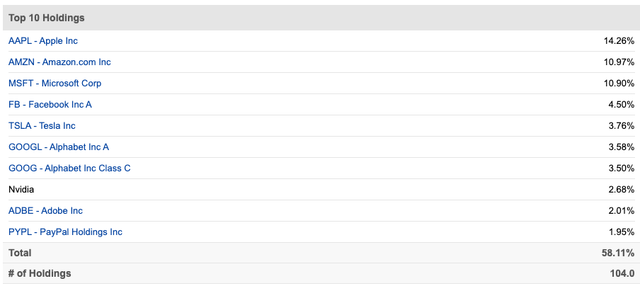 Source: Seeking Alpha
These tech titans have widely outperformed the market in the past decade, and even more during 2020, until the correction began in early September. This long-term outperformance was produced on the back of rock-solid financial performance from these companies, although valuations have also expanded over this period.
Disclosure: I am/we are long AAPL, GOOG, AMZN, FB, PYPL. I wrote this article myself, and it expresses my own opinions.
Disclaimer: I wrote this article myself, and it expresses my own ...
more