IPOs Quietly Lead This Market: 3 Top-Ranked Stocks To Consider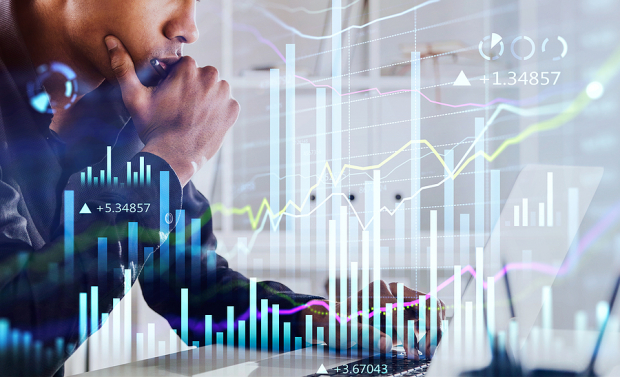 Image: Bigstock
The Renaissance IPO ETF (IPO - Free Report), which is a rules-based ETF providing exposure to newly listed stocks, has considerably outperformed the broad market year-to-date. The fund holds stocks that aren't present on any major indexes and are less than three years old, with the average age being 1.3 years.
This allows investors the opportunity to avoid single stock risk and benefit from the newest stock issuances without overlap in the rest of their portfolio. Each quarter the ETF is rebalanced as new IPOs are included, and older ones are dropped.

Image Source: Zacks Investment Research
While some investors may choose to invest directly into the IPO ETF, parsing the components is a useful way to find new stocks to invest in. In this article, I will cover three companies from the fund that have high Zacks Ranks.
Li Auto (LI - Free Report), Bentley Systems (BSY - Free Report), and Unity Software (U - Free Report) all have bullish catalysts improving near-term expectations for the stocks. From strong momentum and technical chart setups, to improving earnings and potentially world changing products, each of these stocks are a worthwhile consideration for any investor.

Bentley Systems
Bentley Systems is a leading global provider of software solutions for infrastructure engineering, construction, and operations. With a focus on digital advancements and innovation, Bentley Systems enables professionals in the architecture, engineering, construction, and operations (AECO) industry to design, build, and maintain infrastructure projects more efficiently and sustainably.
BSY's comprehensive portfolio of software includes solutions for 3D modeling, project collaboration, asset management, and more. Bentley Systems serves a diverse range of industries, including transportation, utilities, buildings, and industrial plants. The company's commitment to driving digital transformation within the AECO sector has garnered recognition and trust from its customers worldwide.
BSY currently earns a Zacks Rank #2 (Buy), indicating upward trending earnings revisions. While current and next quarter earnings estimates are mixed, FY23 and FY24 have been revised higher by 3% and 2% respectively. Additionally, sales are projected to grow across timeframes, with FY23 expecting nearly 12% year-over-year growth.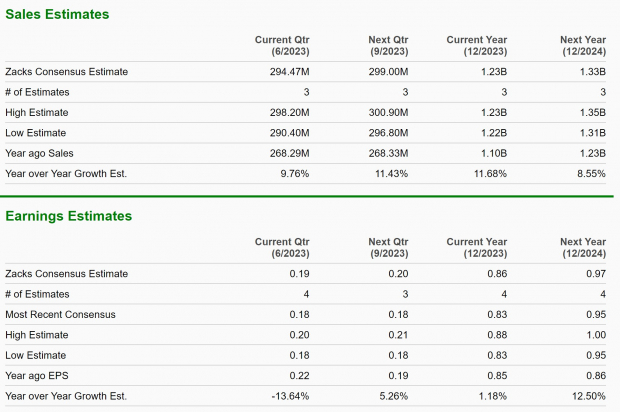 Image Source: Zacks Investment Research
Bentley Systems also just cleared a major level of resistance on the chart, which it had been held under for the last year and a half. As soon as the stock price cleared the $44 level, buyers haven't stopped bidding, and the stock continues to push its yearly highs.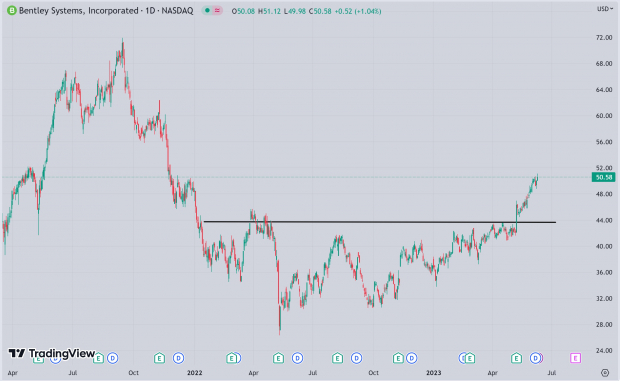 Image Source: TradingView

Unity Software
Unity Software is a leading technology company that specializes in the development of real-time 3D content creation and interactive software solutions. With its powerful and versatile platform, U empowers developers and creators to build and deploy immersive experiences across various industries, including gaming, film, architecture, automotive, and more.
The company's software allows for the creation of stunning visual effects, realistic simulations, and interactive experiences. Unity's platform is known for its ease of use, scalability, and cross-platform compatibility, enabling developers to reach a wide range of devices and platforms.
Unity's solutions are utilized by a vast community of developers, including both large studios and independent creators, who leverage the platform to bring their creative visions to life. As a key player in the rapidly growing field of real-time 3D technology, Unity Software continues to drive innovation and redefine the possibilities of interactive content creation.
Unity Software has experienced significant upgrades in its earnings estimates, reflected in its Zacks Rank #2 (Buy). Current quarter earnings have been revised from -$0.08 to $0.06, demonstrating the company's commitment to showing net profitability.
Sales growth for the company is expected to be exponential. Current quarter sales are projected to grow 73% year-over-year, while FY23 sales are expected to climb 54% year-over-year.

Image Source: Zacks Investment Research
Because of its hyper-speed growth rate and huge industry potential, Unity trades at a premium valuation. At 6.4x one-year forward sales, it is well above the industry average of 2.2x, but it is still below its two-year median of 9x and well off the high of 53x.

Image Source: Zacks Investment Research

Li Auto
Li Auto is a Chinese electric vehicle (EV) manufacturer that has gained significant recognition in the rapidly expanding EV market. The company specializes in the production of smart electric SUVs that integrate advanced technology with sustainable mobility solutions.
Li Auto's vehicles stand out due to their extended-range electric powertrain, which combines an electric motor with an onboard gasoline generator to extend the driving range, alleviating concerns related to charging infrastructure.
This innovative approach allows Li Auto to offer a practical and convenient solution for consumers, particularly in regions with limited charging infrastructure. L has experienced rapid growth, with its vehicles gaining popularity among consumers in China.
Li Auto boasts a Zacks Rank #1 (Strong Buy), reflecting strongly trending earnings revisions. In the chart below, we can see that FY24 earnings have skyrocketed over the last two months and have been revised higher by 250%.
Additionally, sales growth is expected to continue to be very strong. FY23 sales are projected to grow 131% year-over-year and FY24 sales are expected to grow 50% year-over-year. It is also worth noting that the Foreign-Auto industry currently sits in the top 9% of the Zacks Industry Rank, further boosting near-term bullishness.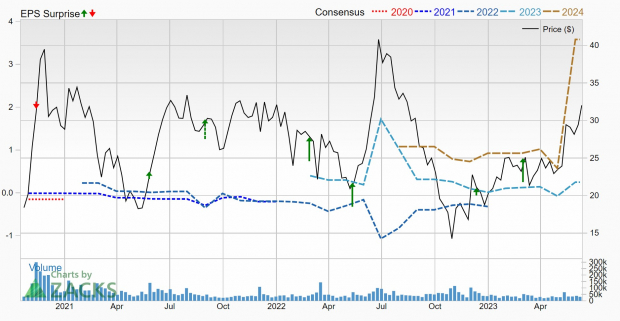 Image Source: Zacks Investment Research
As a high-growth, innovative EV company, Li Auto trades at a high valuation, although it is considerably below its US counterpart Tesla (TSLA - Free Report). LI has been trading at a one-year forward sales multiple of 2.2x, which is below Tesla's 7.5x multiple, and below its two-year median of 3.9x.

Image Source: Zacks Investment Research

Bottom Line
IPOs can be an interesting and profitable way to find explosive new stocks. However, investing in young, immature companies can come with much higher risk than established companies. But, by using Zacks proprietary research, investors can improve their odds of success by focusing on stocks with improving earnings and additional bullish catalysts.
---
More By This Author:
2 Airline Stocks That Could Fly Higher In June
Lennar Expected To Beat Earnings Estimates: Can The Stock Move Higher?
4 Technology Mutual Funds To Invest In As Interest Rates Stabilize
Disclosure: Zacks.com contains statements and statistics that have been obtained from sources believed to be reliable but are not guaranteed as to accuracy or completeness. References to any specific ...
more