Investing In The Disruptors: Profitability In The Age Of Monopolies
The market has entered into a period of relative uncertainty, as measured by the VIX.
Industry consolidation increases profitability at the expense of efficiency.
Monopolies negatively impact economic growth.
The disruptors are the most important tools in breaking up the current monopoly problem.
There are several ETFs that can be used to invest across the disruption industry.
The History of Monopolies
On October 27th of 1981, the publication of market concentration data was ended by President Reagan's FTC Chair. Antitrust has appeared to become very low priority for every single administration over the past 35 years. But if products are still being delivered and the economy is still functioning, does it really make a difference if some industries are dominated by two or three key players?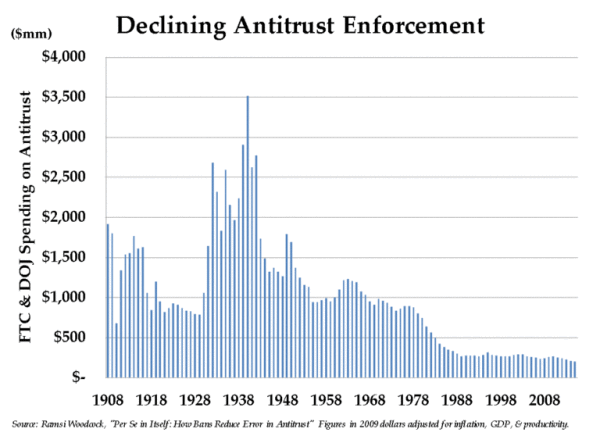 Source: Pekinsinger
The Obama administration loosened the Herfindahl-Hirschman Index guidelines back in the years following the Recession to allow for more business activity. In response to scrutiny, the FTC said that "when success and failure are driven by relative degrees of innovation and efficiency, markets also become more concentrated". Basically, the FTC stated that innovation spurs consolidation. However, it also spurs disruptors.
Disruptors will be the key to economic growth in the coming years, and will become necessary in breaking up existing monopolies. There are several ways to invest in disruption, through the companies in the 2019 IPO market, as well as through the Renaissance IPO ETF.
The Growth of Industry Concentration: Monopoly Power
There prevalence of monopolies in the market has grown over time. Google owns 90% of the search engine market. 4 Airlines control 76% of the overall industry. 3 companies control 75% of the beer market. 4 companies control 97% of the dry cat food market. 2 companies control 76% of the coffin and casket industry.
This consolidation process has only accelerated over time. More than 75% of US industries have become increasingly concentrated over the past twenty years, with the "average increase in concentration levels reaching 90%" as measured by the Herfindahl-Hirschman index (HHI) according to research from Grullon, Larkin, and Roni.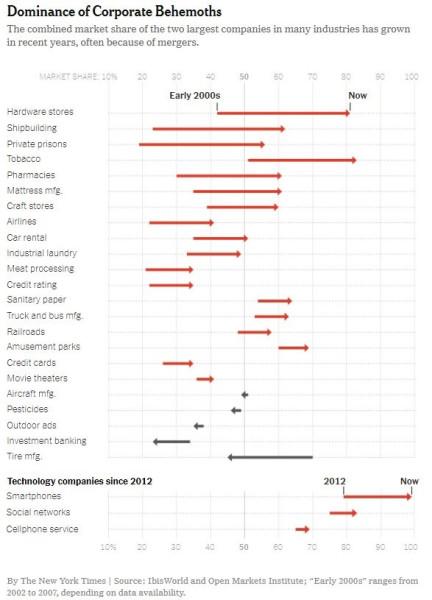 Source: David Leonhart
The above graphic details the growth in market power of the two largest companies in a variety of industries over time. Smartphone companies, tobacco companies, and hardware stores have experience the largest increase in concentration, but across the board, industries have become more consolidated.
The airline industry is a great example of an increase in market concentration. Delta, American, United Continental, and Southwest all dominate the domestic airline industry. Those 4 firms control 76% of the $150B market. In 2005, those same 4 firms only controlled 38% of the market. Their market concentration has doubled over the past 15 years.
Disclaimer: These views are not investment advice, and should not be interpreted as such. These views are my own, and do not represent my employer. Trading has risk. Big risk. Make sure that you can ...
more