Commodities Topped Returns For Major Asset Classes Last Week
Amid ongoing concerns over inflation, commodities continued to rise, posting the strongest gain for an otherwise mixed week for global markets through Oct. 8, based on a set of ETFs.
The equal-weighted WisdomTree Continuous Commodity Index Fund (GCC) rose 2.3% last week. The gain marks the third straight weekly advance for the fund, which closed above its recent trading range on Friday.
Stocks in emerging markets were last week's second-best performer, in part because several economies in this corner are closely tied to raw materials, which have enjoyed price gains lately. But while Vanguard FTSE Emerging Markets Index Fund (VWO) posted a solid advance, the fund continues to struggle as a downside bias weighs on its trend.
US stocks were the third-best performer last week, edging up 0.6%. Otherwise, the rest of the major asset classes lost ground. The biggest loser last week: foreign junk bonds via VanEck Vectors International High Yield Bond (IHY), which tumbled 1.3% — the fifth straight weekly loss for the fund.
The Global Market Index (GMI.F) — an unmanaged benchmark (maintained by CapitalSpectator) that holds all the major asset classes (except cash) in market-value weights via ETF proxies — ticked up 0.1% last week.
For the one-year trend, US stocks have a narrow lead. Vanguard Total US Stock Market (VTI) is up a strong 30.5% over the past 12 months. In second place: US real estate investment trusts via Vanguard US Real Estate Index (VNQ), which is ahead by 27.8% at Friday's close over the year-ago level after factoring in distributions.
The deepest one-year loss for the major asset classes: foreign government bonds in developed markets. SPDR Bloomberg Barclays International Treasury Bond ETF (BWX) is down 3.6% for the trailing one-year window. GMI.F's one-year return is a strong 19.4% gain.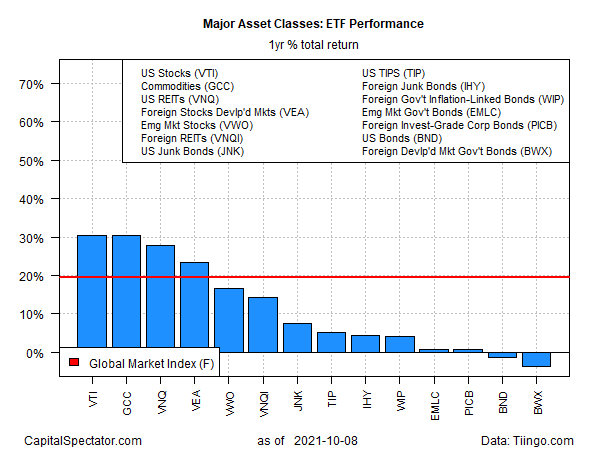 Profiling the major asset classes through a current-drawdown lens still shows that US inflation-indexed Treasuries (TIP) enjoy the smallest peak-to-trough decline – a fractional 0.9% dip from the previous peak. At the opposite end of drawdowns: commodities, which are down more than 27% from the previous peak.
GMI.F's current drawdown is -3.3% as of last week's close.