Buy This Instead Of "Big Tech" Stocks And Bank 55% Gains
Ah, the "forward lateral" – one of the most-failed football plays there is out there. It's a trick play, a desperate move. Whenever you see a quarterback try and throw the football sideways to a teammate across the field, you can be sure that team is way behind in a must-win game.
That's basically what the market is trying right now, a forward lateral pass. Investors are bobbing laterally from sector to sector, searching for stocks to buy ahead of a traditional summer slowdown that could be made worse by worries about inflation.
This constant flip-flopping between sectors says a lot about investor expectations. It's got me moving on an exchange-traded fund (ETF) that should offer double-digit upside while the broader market slows way down.
These Sectors Are Poison Right Now
The high-flying valuations of Tesla Inc. (Nasdaq: TSLA), Facebook Inc. (Nasdaq: FB), Apple Inc. (Nasdaq: AAPL), and Alphabet Inc.'s (Nasdaq: GOOG) Google have generated some worrisome vibes for investors over the past week or so.
We're currently seeing a large, powerful exodus out of the technology sector, specifically the large- and "mega"-cap stocks. The NASDAQ 100 was trying for a rally on Thursday, but it's got a lot of lost ground to make up; the Invesco QQQ Trust (Nasdaq: QQQ) ETF that tracks the tech-heavy index is down nearly 3% for the month.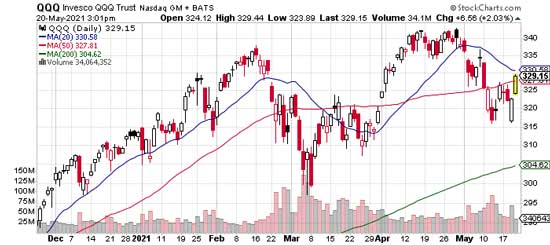 A lot of this is down to earnings season, or should I say, earnings season's end. The fact that the earnings reports were mostly good has made them more of a liability, because, over this current quarter, there are some concerns that earnings growth might not be as strong.
This is definitely a "buy the dip" opportunity to load up on stocks you like, but as a pure profit play, it's dead for the foreseeable future.
We're also seeing major outflows in the biotechnology sector, too, as tracked by the SPDR S&P Biotech ETF (NYSEArca: XBI). That's down around 8.6% since April 28. It's fallen into a technical pattern bullish traders dread – lower highs and lower lows. The sector is badly underperforming the market. This is putting the entire biotech sector in a vulnerable position.
Disclaimer: Any performance results described herein are not based on actual trading of securities but are instead based on a hypothetical trading account which entered and exited the suggested ...
more