Bitcoin Surge Renews Enthusiasm For Blockchain ETF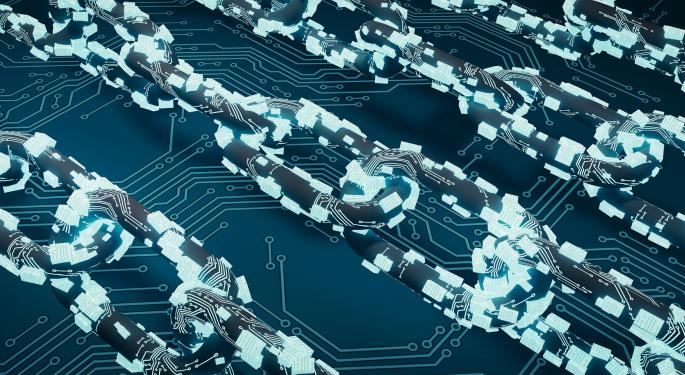 Bitcoin's 2020 ascent is extending into the new year with the largest digital currency by market value ascending above $33,000 on Jan. 2.
What Happened: After more than quadrupling last year, bitcoin's market value last weekend was hovering around $610 billion. Said differently, if the cryptocurrency were a publicly-traded domestic company, it would be the seventh-largest component in the S&P 500.
All that enthusiasm made its way to blockchain exchange-traded funds, a group of thematic ETFs that debuted several years ago around the time of bitcoin's initial epic surge, one that results in a similarly epic slide. One member of that group is the Amplify Transformational Data Sharing ETF BLOK.
Why It's Important: Until a dedicated bitcoin ETF is approved in the U.S., funds like BLOK can give investors some synthetic crypto exposure. Data confirm BLOK is responsive to bitcoin moves as the Amplify ETF surged 86.56% last year and its trough-to-peak move was nearly a triple.
"BLOK is an actively managed ETF that seeks to provide total return by investing at least 80% of its net assets in equity securities of companies actively involved in the development and utilization of blockchain technologies," according to the issuer.
Data suggest some investors are embracing the notion of BLOK as something of a bitcoin proxy. In mid-December, Amplify put out a press release stating the ETF topped $250 million in assets under management. Now, just a few days shy of its third birthday, BLOK is a $361.55 million ETF.
"As applications using blockchain technology continue to expand, we believe BLOK offers investors an attractive way to participate in this growing market segment," said Amplify CEO Christian Magoon. "From food safety to cryptocurrency to the issuance of sovereign debt, blockchain technology is impacting the lives and portfolios of investors around the world each day. We believe BLOK's unique set of holdings and actively managed approach will continue to distinguish it in the marketplace in terms of assets under management and shareholder returns."
© 2021 Benzinga.com. Benzinga does not provide investment advice. All rights reserved.