Big Opportunities In Value Stocks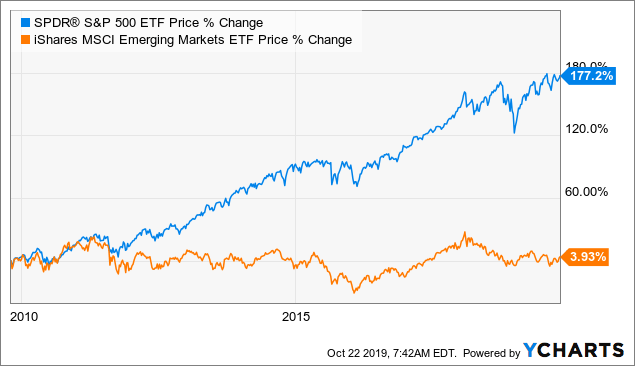 Data by YCharts
There are some fundamental reasons why US stocks have outperformed the rest of the world. The US economy is doing relatively better, and the trade war is producing lots of concern among investors when it comes to emerging markets. However, it is important to keep in mind that these factors are already incorporated into expectations and into stock valuations.
The table below shows some key valuation metrics for the SPDR S&P 500, the iShares Russell 1000 Value and two international value ETFs: the Cambria Global Value (GVAL) and the WisdomTree Emerging Markets SmallCap Dividend ETF (DGS).
Looking at price to earnings, price to book, price to sales, price to cash flows and dividend yield, the valuation gap is quite staggering. Value stocks in the US are much cheaper than the US market in general, and value stocks in international markets look like a bargain.
The price to earnings ratio in international value stocks is around 8-9 versus over 18 for the SPDR S&P 500. The dividend yield rises from 2% for the S&P 500 to 5%-6% for international value stocks.
(Click on image to enlarge)
Data Source: Morningstar.
None of these changes the fact that emerging market stocks are riskier and more volatile than US stocks, especially in times of economic uncertainty and trade war. However, there is a fair price for everything, and value stocks in international markets look massively undervalued.
Nobody can know for certain what the future will bring for value stocks. However, after a decade of underperformance, value stocks look attractively cheap, and they are starting to perform better in recent months. When considering both risk and reward, it makes sense to hold a position in international value stocks at current prices.
Disclosure: I am/we are long DGS, GVAL.
Disclaimer: I wrote this article myself, and it expresses my own opinions. I am not receiving compensation for it. I have no business relationship ...
more