An Easy Way For Conservative Investors To Get Into Preferreds
I get dozens of emails daily with questions about income stocks and investing strategies. I often see that individuals are confused about the structure, details, and investment risks of stock exchange packaged investment products. This lack of knowledge can lead to poor investment decisions, poor results, and actual losses.
There are three types of exchange-traded investment products. They are exchange-traded funds (ETFs), exchange-traded notes (ETNs), and closed-end funds (CEFs). ETNs have fallen out of favor, and I won't cover them today. We can dividend ETFs into two sub-categories, those that are passive investments and actively managed funds. All CEFs are actively managed. Let's look at the details of each type of fund, and then I provide examples of each for a single investment category.
Exchange-traded funds are passive investment products designed to track a specific index. Passive investment products provide low-cost investment exposure to specified indexes. Index funds came about when the evidence showed actively managed mutual funds often did not outperform the major stock indexes. Launched in January 1993, the SPDR S&P 500 ETF (SPY) was the first ETF.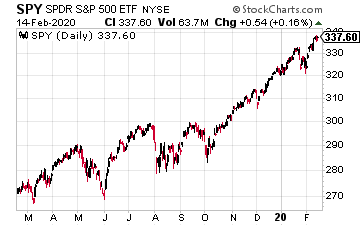 It tracks the component stocks of the S&P 500. Over the last 30 years, fund sponsors developed thousands of indexes and ETFs to track them. ETFs hold over $1 trillion in assets. This type of fund is a popular investment in 401k retirement accounts and with traders who want to take advantage of short term market swings. Here are the features of a traditional ETF you should know:
An ETF owns securities to match a designated index. If you invest in an ETF, you are investing to mirror the index results.
ETF expenses are usually very low, often ten basis points (0.10%) or less.
ETF shares are created and redeemed by the fund sponsor. For example, State Street Global Advisors is the sponsor for SPY.
ETF share net asset values (NAV) are continuously calculated. In the stock market, ETF shares will trade within a penny or two of the NAV.
Dividend payments will vary with portfolio earnings.
Disclaimer: The information contained in this article is neither an offer nor a recommendation to buy or sell any security, options on equities, or cryptocurrency. Investors Alley Corp. and its ...
more