6 ETFs In The Spotlight Ahead Of Big Tech Q2 Earnings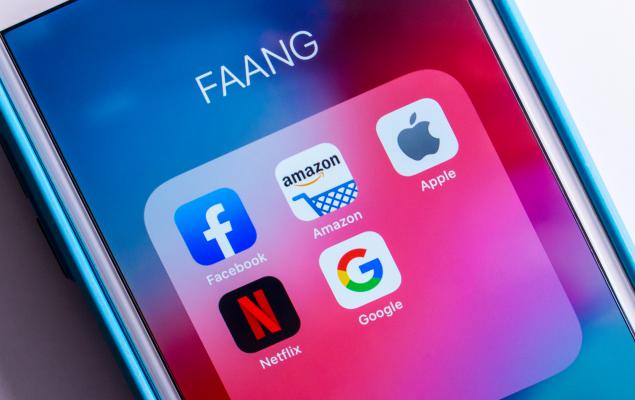 Image: Shutterstock
The technology sector, which was the major victim of inflation fears and lofty valuation concerns, has regained solid momentum in recent months. Diminishing worries about runaway inflation compelled investors to pile back into the tech-oriented growth stocks. Additionally, the Delta variant of COVID-19 brought back the lure for stay-at-home trends that have resulted in higher demand for the technology space once again.
In fact, tech titans roared at the end of June with Facebook (FB Quick Quote FB - Free Report) hitting $1 trillion and Microsoft (MSFT Quick Quote MSFT - Free Report) topping $2 trillion market cap for the first time. The Amazon (AMZN Quick Quote AMZN - Free Report) stock is hovering near record highs while Apple (AAPL Quick Quote AAPL - Free Report) has become the trending stock ahead of its next iPhone launch. Alphabet (GOOGL Quick Quote GOOGL - Free Report) is also performing well.
These five companies combined now account for 23.3% of the total market capitalization of the S&P 500 Index. Total Q2 earnings from the group of five companies are expected to be up 48.4% on revenue growth of 29.2%. Microsoft, Alphabet, and Apple are scheduled to release their earnings on Jul 27 while Facebook will report on Jul 28. Amazon is slated to report on Jul 29.
Microsoft
Microsoft has a Zacks Rank #3 (Hold) and an Earnings ESP of 0.00%. According to our methodology, the combination of a positive Earnings ESP and a Zacks Rank #1 (Strong Buy), 2 or 3 (Hold) increases the chances of an earnings beat. You can uncover the best stocks to buy or sell before they're reported with our Earnings ESP Filter.
The stock witnessed no earnings estimate revision for the fourth quarter fiscal 2021 over the past 30 days. The Zacks Consensus Estimate indicates substantial earnings growth of 30.1% and revenue growth of 15.9% from the year-ago quarter. Microsoft's earnings track is impressive, with the last four-quarter positive earnings surprise being 14.83%, on average. The stock belongs to a top-ranked Zacks industry (top 44%) and has gained 10.7% over the past three months.
Disclosure: Zacks.com contains statements and statistics that have been obtained from sources believed to be reliable but are not guaranteed as to accuracy or completeness. References to any ...
more