5 Stocks With Attractive Yields And Growing Dividends
Earn an accelerating income stream and market-beating returns with these five dividend stocks all yielding over 5%. Their increasing dividends and attractive yields will produce a growing cash income stream and capital gains that are an unmatched tool for safely increasing your wealth.
With the strong rally in the REIT sector this year, it has become much harder to buy into high-quality equity REITs at attractive yields. Stocks that not long ago would pay you a 5.5% to 6% yield are now trading to yield less than 4%. If your portfolio craves a high annual cash flow rate, it takes some digging to find REITs that are both growing their dividends and come with a current high yield.
I keep a REIT database that allows me to track and compare about 130 REITs for yield and dividend growth rates. Currently, out of the approximately 90 companies that have increased dividends in the last year, the average yield is a shade under 4%. To find some higher yield prospects, I screened my database for REITs that had increased their dividends for at least three years in a row and had 2016 FFO per share that is trending higher. These companies are positioned to continue their dividend growth records. Here are the five highest yielding REITs that meet the above criteria.
Medical Properties Trust, Inc. (NYSE: MPW) is a healthcare REIT that owns 64 general acute care hospitals, 69 inpatient rehabilitation hospitals, 23 long-term acute care hospitals, 43 free standing emergency rooms, and 3 medical office buildings. The properties are all leased to third party operators. The company has increased its dividend three times since 2013, with increases in the 4% to 5% range. MPW yields 5.8%.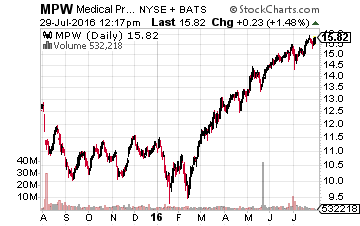 Omega Healthcare Investors Inc. (NYSE: OHI) is a healthcare sector REIT with its property portfolio focused on skilled nursing facilities, assisted living facilities, independent living facilities, and rehabilitation and acute care facilities. Omega currently owns over 900 properties in 40 states and the U.K. This REIT has a history of increasing its dividend by a small amount (usually a penny) each quarter, and has done so for 16 straight quarters. OHI yields 6.9%.
Disclosure: There are currently over twenty of these stocks to choose from in my more