2 Hot Biotechs Set To Deliver Paydays To Investors In 2015
It has been a tough start to the New Year for investors. The major indexes lost between two and four percent in January. The energy sector continues to be a pariah as crude struggles to find a floor. Financials have been hit due to falling interest rates and disappointing quarterly results from the major banks. American multinationals have seen the strong dollar start to significantly impact the earnings they get from overseas. Consensus earnings estimates for the S&P 500 for 2015 have moved down some 10% over the past nine months.
Defensive sectors like Utilities and Consumer Staples have held up well as the market has shifted into a defensive mode and shunned the high beta or "risk on" parts of the market. The one exception to this is the biotech space. iShares Nasdaq Biotechnology ETF (NYSE: IBB) actually posted a nice gain for the opening month of the year powered by standout results from the likes of large cap juggernauts like Celgene (NASDAQ: CELG) and Biogen Idec (NASDAQ: BIIB).
This makes sense as this sector is seeing growth estimates hold up and is not impacted by falling oil and has less foreign currency exposure than the likes of IBM Corporation (NYSE: IBM) or Google (NASDAQ: GOOGL). Small cap biotech stocks have also been holding up well despite being in a notoriously volatile sector. This sector has powered a good portion of the gains in the Small Cap Gems portfolio in recent months. It also has contributed several standout performers within articles I have done recently here with Investors Alley. This includes Ziopharm Oncology (NASDAQ: ZIOP) which has doubled since being profiled seven weeks ago (see article here).
Hoping to duplicate that success, let's talk about a couple of small cap biotech stocks that have some lucrative potential positive catalysts ahead of them in 2015.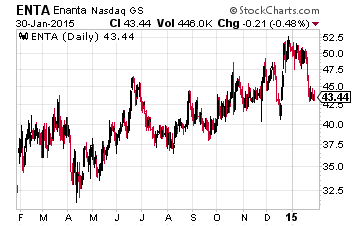 Let's start with Enanta Pharmaceuticals (NASDAQ: ENTA) which has a market capitalization just south of $1 billion at the current time. The company is focused on creating small molecule drugs in the infectious disease field. They currently are developing novel inhibitors designed for use against the hepatitis C virus. Hepatitis C has been in the news a lot over the past year thanks to the blockbuster success of Sovaldi/Harvoni from biotech juggernaut Gilead Sciences (NASDAQ: GILD) which happens to be the biggest position in my own portfolio at the present moment and is a core selection within the Blue Chip Gems portfolio as well.