3 High-Dividend Stocks For Your Retirement Portfolio
It's finally here.
Retirement has arrived, and it's time to look forward to traveling, spending time with the grandkids, and all the things you have been dreaming of doing.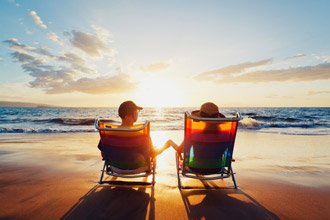 You have worked, scrimped, saved, and invested for a long time to get to this day.
Now you need to set your portfolio up to provide a steady, consistent stream of income.
In years past, you might have been talking to your banker about certificates of deposit or visiting with a local broker to discuss tax-free bonds, but in today's zero interest rate world, that's no longer an option.
You need income to fund your dreams, and your best option is the stock market. Fortunately, high-yield dividend stocks are out there, even in this pandemic-ravaged economy.
The strategy here is to find high dividend-paying stocks in companies you can depend on to make the payments regularly and increase that payment over time. You do not want to lose so much as a minute's sleep worrying about having income coming into your account, which is exactly why you don't want to buy just any old stock with a high yield.
And I'm going to show you exactly how to find these reliable dividends.
Let's look at a few of the best retirement dividend stocks.
Phillip Morris Can Be a Retirement Staple
Dividend Yield: 6%
Phillip Morris International Inc. (NYSE: PM) is an excellent choice for your steady income portfolio. When Altria Group Inc. (NYSE: MO) split off Phillip Morris in 2008, it kept the domestic tobacco business, and Phillip Morris International got the international part of the tobacco business.
While smoking rates have declined worldwide, Phillip Morris has been able to grow its share of the global marketplace. Smokers tend to be fiercely brand loyal, which has helped them slow the decline in tobacco sales.
More importantly, they have been adopters of what they call reduced-risk strategies using next-generation nicotine products, including combustibles, heated tobacco, and vaping.