US Recession Watch, January 2021 - Slowing Growth Evident As Calendar Turns
MAKING SENSE OF US ECONOMIC DATA
On Thursday, the 4Q'20 US GDP report will be released. A Bloomberg News survey is calling for US GDP to come in at +4% annualized in 4Q'20 after surging by a record +33.4% in 3Q'20. Depending upon where you look, estimates vary significantly. The New York Nowcast estimate for 4Q'20 GDP is at +2.58%, while the Atlanta Fed GDPNow model is pointing to loftier+7.5% growth.
But the fact of the matter is that Bloomberg consensus forecasts and the regional Fed bank forecasts have been coming down for the past several weeks, reflecting a deceleration in US growth as the coronavirus pandemic entered its darkest days. Even though the next tranche of US fiscal stimulus was agreed upon at the end of the Trump presidency, it is still possible that 1Q'21 US GDP comes out in negative territory (but we won't find that out until April).
ATLANTA FED GDPNOW Q4'20 US GDP ESTIMATE (JANUARY 26, 2021) (CHART 1)
(Click on image to enlarge)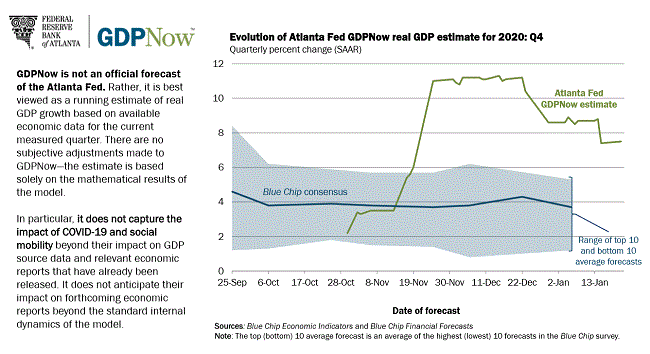 Rising US initial jobless claims, weakening ISM and PMI surveys, and disappointing consumption figures all point to a US economy that has decelerated in recent months. No surprise, this deceleration has mirrored the sharp rise in coronavirus infections, hospitalizations, and deaths.
But the prospect of another $1.9 trillion in US fiscal stimulus pushed by US President Joe Biden, now that Democrats have full control of Congress, has helped put a floor under falling growth expectations. If policymakers on Capitol Hill are able to get another tranche of stimulus passed in February, then additional government rescue funds could help the US economy avoid a double-dip recession in 1Q'21.
FED DRIVING THE NARRATIVE, STILL
The January Fed policy meeting set to conclude on January 27 is the first of the Biden presidency. Beyond that, who cares? After much ado about a potential tapering of its QE program, Fed officials took to the airwaves in mid-January to hush a potential taper tantrum. The first meeting of the year, without a new Summary of Economic Projections, may offer little by way of tangible policy shifts to provoke volatility.