The Return Of The Fed's Balance Sheet Policies
The Federal Reserve has increased the size of its balance sheet by a third of a trillion dollars over the last 15 weeks, returning to tools that a short while ago we thought it had abandoned. But the Fed's current goal in these operations is quite different from what we had seen earlier.
One of the factors causing the renewed growth of the Fed's balance sheet is the Fed's direct purchases of securities. By the end of 2014, the Fed held over $4 trillion in securities. At the end of 2017, it began to reduce those holdings gradually. But last summer the Fed returned to a policy of reinvesting maturing assets in order to keep its level of securities constant. And two months ago the Fed resumed net security purchases, causing its balance sheet to grow again.
(Click on image to enlarge)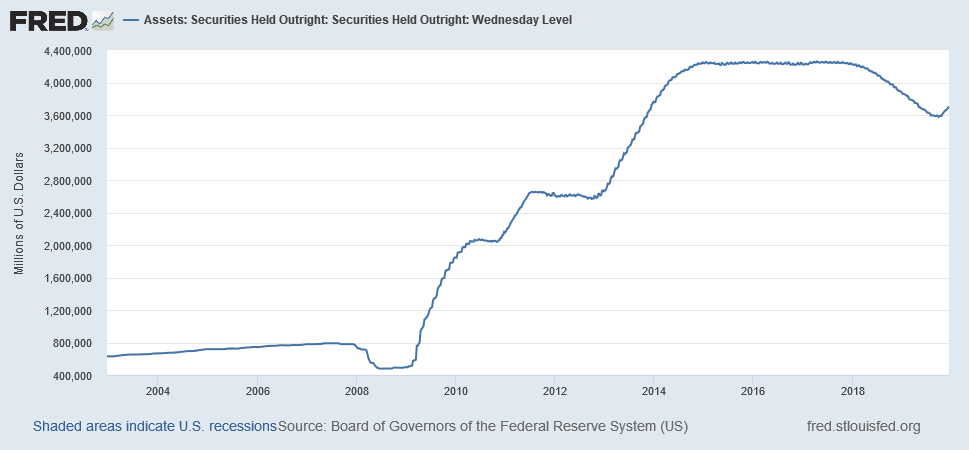 Securities held outright by the Federal Reserve in millions of dollars, Wednesday values, Dec 18, 2002, to Dec 11, 2019. Source: FRED
The Fed's goal in increasing its securities holdings through 2014 was to hold down long-term interest rates. The idea was that if the Fed took a large enough volume of long-term bonds out of the hands of private investors, it might increase the market price of the bonds, or equivalently, lower their yield. The empirical and theoretical evidence that this strategy could have a substantial effect on long-term yields remains controversial. But whatever the merits of this theory, it is not the motivation for the Fed's recent purchases. These have all come in the form of purchases of short-term Treasury bills, not the long-term bonds that the Fed was buying in volume over 2009-2014.
A bigger factor in the resumed growth of the Fed's balance sheet has been repurchase agreements. These are essentially a collateralized short-term loan from the Fed to primary dealers. Before 2008, the Fed regularly used these to fine-tune its control of interest rates, entering into small repurchase agreements if it wanted to put some additional reserves temporarily into the banking system. In 2008, the Fed greatly expanded the use of this tool as it tried to fight the financial crisis, accepting as collateral for repos some of the assets that banks would have had trouble liquidating in that environment. By 2009, this intervention by the Fed was no longer needed, and Fed repos were essentially nonexistent between 2009 and last September.
(Click on image to enlarge)