Recession: Are We There Yet?
An old joke says economists predicted 15 of the last 10 recessions. In other words, they're frequently wrong and often too pessimistic.
I think it's not so simple. Every recession prediction is eventually correct; some just get the timing wrong. That's because, so long as we have a business cycle, a recession is always coming. The only question is when it will strike.
There's also some dispute about what, exactly, counts as "recession." The usual definition is two consecutive quarters of falling real GDP. But as I've written, GDP itself is a nebulous statistic with substantial margin of error. We can never be quite sure.
My own outlook has been consistent: The current growth phase is getting old and will end as they all do, but we probably have another year or so. That is about as far out as my data reads can actually give us any statistical confidence. Macro events like Federal Reserve error, trade war, ugly Brexit, and others could hasten the decline. But as of now, the US and the developed world seem likely to sustain at least mild growth through 2019.
That doesn't mean we rest easy. It means we have time to prepare for the worse conditions that we know are coming. How much time? That will be today's topic as we review some recent analysis. Now let's review the recession forecast:
Recession antennae everywhere popped up on February 14 when the Commerce Department reported retail sales fell 1.2% in December. It was the worst month-over-month decline since 2009.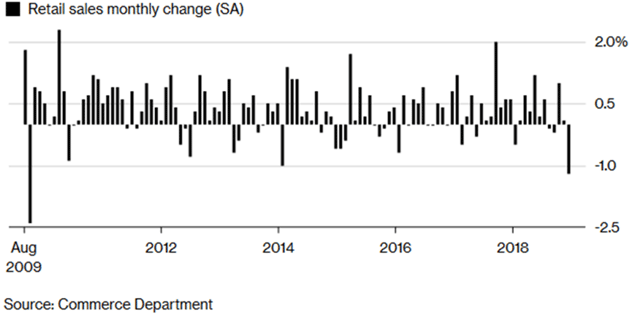 Chart:
Now, there are reasons to doubt this report's significance. It came out four weeks later than scheduled due to the government shutdown, and thus is more subject to revision than normal. It also conflicts with private-sector data like Redbook, which climbed sharply in December. And even if the data is right, this is only one month and one month doesn't make a trend.
Nevertheless, retails sales are an important input to recession models like the Atlanta Fed's GDPNow. That model's estimate for Q4 2018 instantly plunged from 2.7% just two weeks earlier to 1.5%. Ugh.
That will be a dramatic weakening if the final Q4 GDP report confirms it, but I doubt it will. I think this report is a glitch and will fade away as other data supersedes it. But even if it's right, 1.5% GDP growth isn't a recession. It would mean 2018 was an okay though not spectacular year, and a recession call by definition is at least six months away (since it takes two negative GDP quarters to mark one).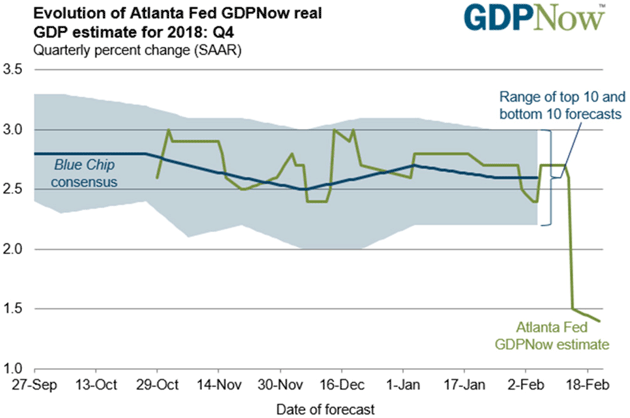 I trust Dave Rosenberg of Gluskin Sheff—enough to make him a perpetual SIC speaker and he has been my "leadoff hitter" on the first morning for at least 10 years—but at the moment we disagree.
Dave is screaming recession every chance he gets, which for him is every business day in his Breakfast with Dave letters. But he is not a perma-bear by any means. He's been bullish at the right times in the past, so I pay attention even if I'm not convinced. I should note he turned uber-bullish nine or 10 years ago, announcing his new forecast at my conference. It was way outside the consensus at the time, but Dave has never cared much about being part of the consensus.
Disclaimer: The Mauldin Economics website, Yield Shark, Thoughts from the Frontline, Patrick Cox's Tech Digest, Outside the Box, Over My Shoulder, World Money Analyst, Street Freak, Just One ...
more