Knock-On Effects Knock Out Economy Like Dominoes
The major knock-on effects of the COVID shutdown are now starting to stack against each other, pushing city centers into the dust. Here are some of the big moves that are as characteristic of the US as they are of the world overall.

The Offapocalypse explodes
Offices are closing all over town — all over almost every town. Remote work has seized the day along with continued levels of unemployment that are historically beyond anything the living have ever experienced (unless you're as old as COVID Joe).
While the turning of offices into ghost towns is not a new knock-on effect, the resurgence of COVID-19 that is taking some states and some nations back into lockdown as Halloween approaches has cinched the end times for many office buildings that will now be converted into housing for the homeless in cities filled with smoke where you can love the smell of tear gas in the morning.
76% of US CEOs Will Slash Office Space As Remote Work Dominates

The virus pandemic has accelerated more flexible work options for employees, with many companies instructing employees to work remotely through 2021, or in some cases, permanently. As a result, according to a new survey, CEOs have said they will slash office space, a move that could ripple through commercial real estate markets, all the way down into local economies….

The prolonged economic downturn and persistent virus pandemic are whipping up a perfect storm where companies must reduce their corporate footprint.

Zero Hedge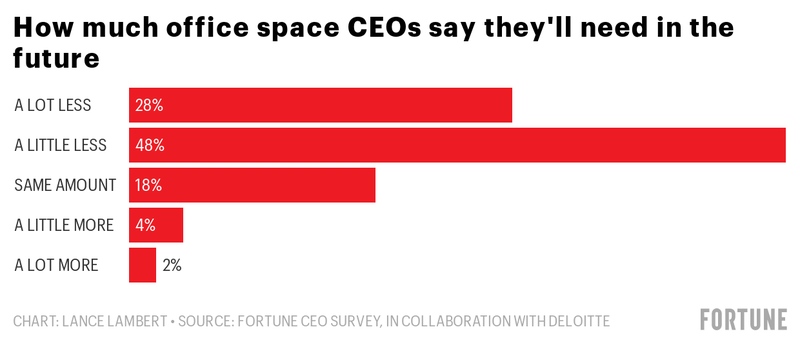 As I've said about the dynamics since the Retail Apocalypse started to unfold a few years ago, Zero Hedge concurs:
The scale-back of corporate space because of remote working will also damage local economies that surround business districts. This will be a mass hit to gas stations, restaurants, and other shops, who depend on commuters, will see less and less traffic for the next few years.
You can understand why businesses will be vacating their leases when you look at how they have already vacated their offices in big cities that have destroyed rational thinking, peace and security in exchange for expending all their efforts to justify and protect riots: