I Pity The Fool
I struggle to see how economic policy would be fundamentally different with Bernie Sanders as president, except for higher taxes.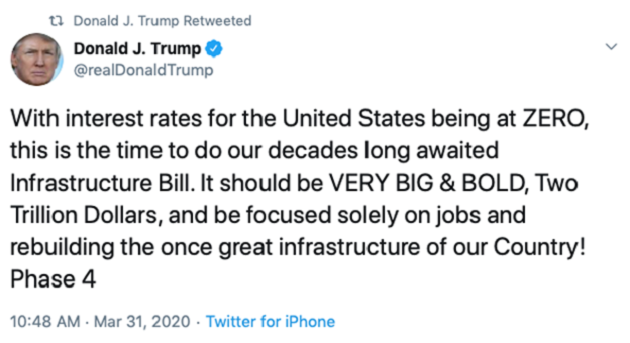 I try to stay away from the macro doom modern monetary theory (MMT) debates, because they are overly ideological and nonproductive. But now we are living it.
The Fed is more or less doing MMT as we speak. But rather than giving printed dollars to the Treasury, it's using the bond market as a conduit. Trillions in bond issuance, financed by trillions of dollars of printed money.
Don't get me started on the pathetic levels of assistance we are offering American citizens in favor of financially irresponsible corporations.
What we are practicing here is not capitalism. In order for capitalism to work, we must allow corporations to fail. The bankruptcy process works just fine. Sure, shareholders and creditors would experience losses, and this would teach them to be more careful next time.
It is the down part of the cycle that is most instructive. Yet we never get to experience it.
It's bigger than just Trump, though. In times like this, there is huge societal momentum to do something. Thomas Massie, the one congressman who more or less favored doing nothing, was tarred and feathered. The word laissez-faire hasn't been uttered in years.
Tough time to be a libertarian or a hard assets investor, though that may be changing soon.
The Great Experiment
MMT critics have said all along that if the Fed financed government expenditures, we'd end up with Zimbabwe-style hyperinflation. I guess we're going to find out!
Gold's performance has been underwhelming, but gold typically outperforms after a crisis, not during.
(Click on image to enlarge)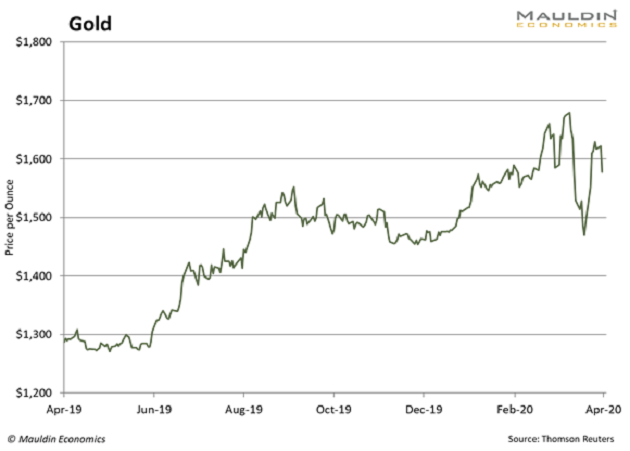 But yeah, if gold is going to work, now is the time. We're looking at:
Unlimited quantitative easing (QE)
Negative interest rates (this is coming)
Unlimited deficits
Direct monetization
Plus, general COVID-19 pandemonium
Disclaimer: The Mauldin Economics website, Yield Shark, Thoughts from the Frontline, Patrick Cox's Tech Digest, Outside the Box, Over My Shoulder, World Money Analyst, Street Freak, Just One ...
more