EC

Hard Times In The Eurodollar Straits
As of trading on Friday, federal funds for the third time is now back to above where all this began. For much of 2017 and Reflation #3, the effective federal funds rate (EFF) remained steady at 16 bps above the RRP "floor". Apart from month-end dumpings, it was consistent and predictable; the best of times, or at least what passes for them in this day and age.
As of July 5, 2019, FRBNY puts EFF at 2.42%. To give the relevant context, in case you haven't been following, that 17 bps spread today includes three "technical adjustments" to IOER. In other words, IOER, the so-called ceiling, is 15 bps lower than it was for EFF being higher than when this all started.
There's a lot that is going wrong in those 17 bps (or the 15, however you want to look at it).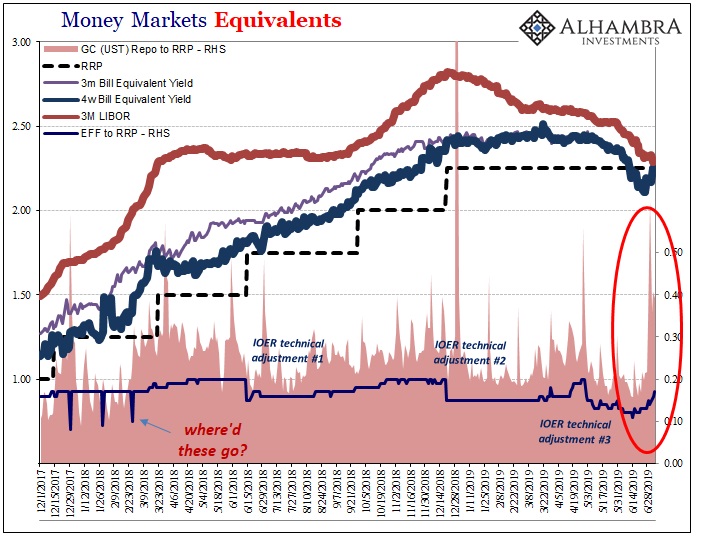 It isn't the payroll reports which are going to push Jay Powell to start cutting rates. It can't be now, at least given the last one and how markets are still absolutely certain Powell moves at the end of this month.
What seems to be spooking the pile (there's not much left of actual curves in 2019) is monetary before economic. We might see negative numbers for the Establishment Survey this year, but not likely before whatever is truly going on in the eurodollar world shows up first.
Economists equate recessions and the like with shocks. There's an awful lot of worry in bonds right now about that very thing. Some are saying this is way overblown; too much pessimism from the usual doom and gloom suspects. It doesn't matter that global bonds are an order of magnitude greater than the stock market, all of them, according to the mainstream view Cassandras apparently can wield influence anywhere.
It's easy enough, therefore, to begin in India:
Sales of riskier rupee corporate bonds have all but dried up in recent months, in another negative for India's slowing economy as companies struggle to raise cash.

Issuance of notes graded A+ and lower plunged 84% last quarter from a year earlier to 22.6 billion rupees ($329 million), the least in five years, according to data compiled by Bloomberg. Borrowing costs have also jumped for issuers with lower debt scores, as a crisis in India's shadow banking sector saps investor demand for riskier securities.
Disclosure: This material has been distributed for informational purposes only. It is the opinion of the author and should not be considered as investment advice or a recommendation of any ...
more