Global Doves Expire: A Hundred Years Of US IP Give Bond Market Another Win
The Federal Reserve has been maintaining statistics on American industry for nearly as long as there has been a Federal Reserve. The first entry in the data series on Industrial Production is for the month of January '19. Not 2019 but 1919. With over a hundred years of relatively consistent data, matching up very well with overall trends in the US economy over an unusually long period, it's no wonder IP is at the top of the list of key indicators.
The NBER cites it as one narrow economy measure for helping its Business Cycle Dating Committee determine any cyclical change.
The Committee also may consider indicators that do not cover the entire economy, such as real sales and the Federal Reserve's index of industrial production (IP). The Committee's use of these indicators in conjunction with the broad measures recognizes the issue of double-counting of sectors included in both those indicators and the broad measures. Still, a well-defined peak or trough in real sales or IP might help to determine the overall peak or trough dates, particularly if the economy-wide indicators are in conflict or do not have well-defined peaks or troughs.
According to the latest IP estimates from the Federal Reserve, the NBER has been put on notice. For the month of April 2019, US industrial production declined 0.5% (seasonally-adjusted) from the level in March. It was the third monthly decline in the past four months, not a good showing at all for this recent "dovish" central bank turn.
Maybe economy-wide indicators don't yet form a well-defined peak, but it is getting pretty defined in terms of industrial production.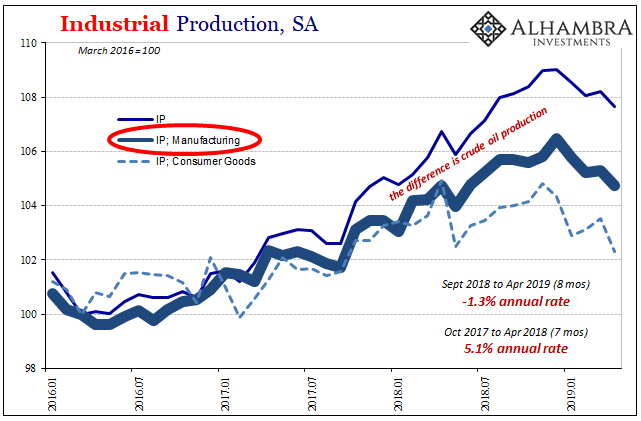 Year-over-year, the comparison is still positive but barely. Last month's overall index was just 0.9% higher than the value estimated for last April. The only segment keeping it positive, for now, is crude oil.
Mining and production of oil has only cooled off a little from its blistering pace last year. Production volume is still growing at near 15% year-over-year. If not for shale and WTI's rebound in 2019, the downward bend in the IP index would be more substantial than it already is.
Disclosure: This material has been distributed for informational purposes only. It is the opinion of the author and should not be considered as investment advice or a recommendation of any ...
more